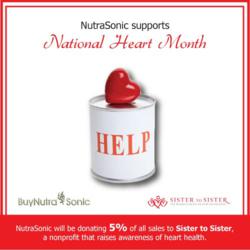 We want to help increase awareness of this disease and save lives.
Seattle, WA (PRWEB) January 31, 2012
DNA Response, Inc., provider of interactive marketing and order management, will donate 5 percent of proceeds from sales of NutraSonic products from February 1, 2012 through February 29, 2012 to Sister to Sister: The Women's Heart Health Foundation, in honor of National Heart Month.
The Sister to Sister foundation was established in 1999 to prevent heart disease in women through cardiovascular screenings, education and behavioral change. Sister to Sister has provided more than 80,000 free heart health screenings and counseling interventions while educating more than 200,000 women at heart health fairs in 17 cities across the country.
"We are honored to donate to a foundation that inspires and motivates women to make risk-lowering changes," said Ranjit Mulgaonkar, CEO of DNA Response, Inc. "Heart disease is the number one killer among women. We want to help increase awareness of this disease and save lives."
According to the American Heart Association, cardiovascular disease claims the lives of more than 500,000 women each year. And only 55 percent of women realize that heart disease is their number one killer. Luckily, this disease is preventable by learning about the risk factors, like high blood pressure, high cholesterol and obesity, and making healthy lifestyle changes.
BuyNutraSonic.com is an online store specializing in beauty products for both men and women. Some of its most popular items include the NutraSonic Essential Face and Body Cleansing Brush, the Cellulite Reduction Massager set and NutraLuxe Lash, an eyelash conditioner.
About DNA Response. DNA Response, Inc. (DNA) provides turnkey e-commerce, online marketing, and order management services to companies in the $300 Billion direct response market. DNA clients sell products direct to consumers using TV, radio, print catalogs, web and mobile as their sales channels. DNA's ECOM2TM platform utilizes state-of-the art cloud computing technologies and services to improve operational efficiency by reducing transaction costs, eliminating credit card declines, and lowering order cancellations and product returns, while simultaneously increasing online revenue for our clients. DNA provides universal order management for processing orders in real time from all the sales channels with full visibility to the business for the clients. DNA generates incremental revenues and helps build a brand for our clients by providing comprehensive e-commerce and online marketing services.
###