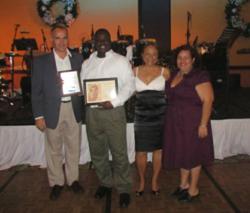 "Manchebo is blessed to have so many staff members who are dedicated and committed to their work for our guests," said Edgar Roelofs, General Manager
(PRWEB) January 31, 2012
Theo Poiesz food & beverage purchaser was honored as the Manager of the Year and Richard Ferrero of the maintenance department was elected as the Supervisor of the Year.
Manchebo's Housekeeping Department was elected Department of the Year - the team has been really doing well bringing their level of service and cleanliness to a much higher level.
Ignacio Peterson better known as Smiley, Iggy or Nacio was honored as the Employee of the Year 2011 for his outstanding performance and contribution to the Pega-Pega Bar. First runner-up employee of the Year 2011 was Ana Maria Paniagua, room attendant, for her contribution and discipline dedicated to the cleanliness of the rooms; and Roy Jones was honored as the 2nd Runner Up of the Employee of the Year 2011 for his great service and friendly attitude towards everyone at Manchebo Beach Resort & Spa.
"Manchebo is blessed to have so many staff members who are dedicated and committed to their work for our guests," said Edgar Roelofs, General Manager. Ignacio Peterson, Ana Maria Paniagua and Roy Jones have exemplified leadership in their respective areas, and the characteristics they demonstrate every day were recognized by their Managers who nominated them.
###