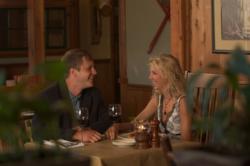 "Most talk about steak restaurant among dating singles in Greenville restaurants!"
Greenville, SC (PRWEB) January 31, 2012
When Edmund Woo was recently asked why he thought his Greenville steak house restaurant Saskatoon would come back as the top word in dating profiles in Upstate South Carolina, he replied, "It is certainly surprising and flattering, that dating singles hold us in such high regard. I would think that our unique menu, http://www.saskatoonrestaurant.com/menu.html, the North Woods décor as well as the attentive but non-intrusive service all played a role. Saskatoon steak house is just a great place to bring a date to."
Edmund further added, "In dating successfully, you need to stack your cards by setting the scene. You need to know that you can depend on the restaurant that you go to, that it is going to add to and not distract from your dating experience. I've lost count of how many customers, in our seventeen years of business, have come here for their first date or to be engaged in our Greenville Restaurant! http://www.saskatoonrestaurant.com/ "
But do the findings from this survey in National Geographic and the conclusions that you may draw from it, have any useful ideas for other independent small retailers? After some thought, Edmund Woo, proffered three points:
The three points are:
1. Be unique: The world doesn't need another restaurant, another karate school, another gift shop, another "fill in your blank". In today's competitive recessionary times, you have to stand out from the crowd. Customers need to have a reason why they shop with you and not your competitor down the road. What is it that makes you unique? What do you do that is better? What facet of your business can you change or build on that could be your unique selling position?
2. Stay on the "top of mind" of your customers. How? For the independent small retailer, with limited marketing funds, you must build a list of all of your customers and market relentlessly to them via email, snail mail, facebook, twitter, text. Create events, reasons for your customers to visit you again.
3. Finally, have an active "word of mouth" marketing program. Start by having a great and unique product or service that gives people a reason to talk about you.
Then, have a game plan to promote word of mouth. This would include education through each customer interaction, asking customers for referrals, press releases, etc.
Edmund concludes that, "If an independent retailer considers each of these three factors carefully, they will find out the way to not just survive, but thrive in these recessionary times and become top of mind with both the dating singles and the happily marrieds!"
Saskatoon: Steaks Fish and Wild Game is located on 477 Haywood Road in Greenville, South Carolina, 29607. One of the best Greenville steak restaurants, the North Woods Lodge restaurant has won Best Steaks in the Upstate of South Carolina ten years in a row, featuring Wild Game Steaks like Buffalo, Elk, Ostrich, Antelope as well as choice, mid-western beef, corn-fed and aged in house, hand-carved daily by the Chef.
Edmund Woo, the owner of the Saskatoon Steak Restaurant, is available for interviews at: 864 363 6644
###