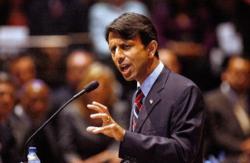 The Parent Trigger got its start in California. It looks like Louisiana will be next to give parents this tool to reform their schools.
(PRWEB) January 31, 2012
Louisiana Gov. Bobby Jindal this month endorsed the Parent Trigger as part of his sweeping education proposals. The Parent Trigger is a new type of legislation specifically designed to empower parents with the chance to directly reform a failing public school.
The idea got its start in California and is catching fire in states across the nation. Texas and Connecticut have passed versions of the Parent Trigger, and similar legislation has been introduced in almost a dozen other states. It appears Louisiana will be next.
Find out more about this legislation's history and quick, nationwide spread in this Policy Brief (PDF) from The Heartland Institute, America's top national state-focused think tank. You can also read visit TheParentTrigger.com for more information and the latest developments with the reform.
If you wish to speak to a Heartland Institute expert about the Parent Trigger, refer to the contact information below, or reach out to Tammy Nash at tnash(at)heartland(dot)org and 312/377-4000.
Bruno Behrend
Director, Center for Transforming Education
The Heartland Institute
bbehrend(at)heartland(dot)org
312/377-4000
Ben Boychuk
Policy Advisor
The Heartland Institute
bboychuk(at)heartland(dot)org
312/377-4000
John Nothdurft
Director of Government Relations
The Heartland Institute
jnothdurft(at)heartland(dot)org
312/377-4000
Joy Pullmann
Research Fellow, The Heartland Institute
Managing Editor, School Reform News
jpullmann(at)heartland(dot)org
312/377-4000
The Heartland Institute is a 28-year-old national nonprofit organization with offices in Chicago, Illinois; Washington, DC; Austin, Texas; Tallahassee, Florida; and Columbus, Ohio. Its mission is to discover, develop, and promote free-market solutions to social and economic problems. For more information, visit our Web site or call 312/377-4000.
###