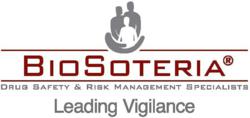 As a leader in Pharmacovigilance and Risk Management of drugs and biologics, BioSoteria will be leading and facilitating an invitation only roundtable event to provide a forum for heads of drug safety at Generics Companies
Emeryville, CA (PRWEB) January 31, 2012
BioSoteria, Inc., Drug Safety and Risk Management Specialists, announced today that it will be hosting a Roundable for discussion of good drug safety surveillance practices of drug safety professionals who work for Generic Drug Companies. The Roundtable is being created to facilitate a discussion of the unique issues and challenges that Generic Drug companies face in the collection, evaluation and safety signal detection activities, as well as risk management, including updates to product labeling. "Innovator drug companies have the ability to update their product labeling when new safety information is identified. Generic companies are expected to conduct signal detection and evaluation, but must retain the innovator drug labeling and thus there may be practice differences in how new safety concerns are escalated to innovators and regulators. Both generic and innovator are conducting literature searches for ADR reports, which likely lead to redundancy in activities, resources, and duplication in reporting to FDA. These are some of the many unique issues that safety professionals within Generic Companies face each day", says Dr. Van Doren. "As a leader in Pharmacovigilance and Risk Management of drugs and biologics, BioSoteria will be leading and facilitating an invitation only roundtable event to provide a forum for heads of drug safety at Generics Companies to exchange ideas, practices and challenges and to find concensus in best practices for safety surveillance with generic drugs."
BioSoteria is seeking identification of interested Generic Company participants for this invitation only event, that will be a one day roundtable discussion with presentations of topics in drug safety followed by group discussion to identify challenges and solutions for good generic drug safety practices. The resulting proceedings will become a white paper submitted to DIA Global Forum journal or other similar industry publication.
Details of the venue and date will be determined after all participants are identified.
To participation in this important Generic Drug Safety Rountable, contact BioSoteria at contact(at)biosoteria(dot)com .
About BioSoteria
Founded in 2006 with a strong vision of a progressive drug safety and pharmacovigilance consulting services and education, BioSoteria serves the outsourcing needs of the pharmaceutical industry. From strategic risk management consulting services and full-service drug safety operational capabilities to world-class award winning pharmacovigilance training and education programs, BioSoteria provides unmatched experience, expertise, and leadership to support your company's efforts to maximize your product's benefit-risk profile. For more information about BioSoteria and our safety consultative and training services, go to http://www.biosoteria.com.
###