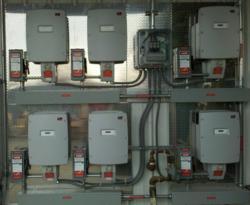 ...visit our Turlock location anytime for a tour
Turlock, CA (PRWEB) January 31, 2012
For Swenson Shear, the desire to "go green" outweighed the stress of hitting an extreme deadline. "We have wanted to go solar for some time," said Dean Doerksen, president of Swenson Shear. "With travel, trade shows and catering to an international client base, we found ourselves making a last minute decision, which lead us to contact Ambassador Energy. We interviewed several local solar firms and found Ambassador Energy to have the qualifications and horsepower we needed to get the job done. Out of everyone we interviewed, Ambassador was the only one in our area with NABCEP certified solar PV installers and sales professionals."
To accomplish the task, Ambassador Energy designed a solar system, which included both ground-mounted and roof-mounted arrays. They took advantage of the optimal azimuth of the building's roof and added a supplemental array on the ground near the parking lot. They also opted for underground horizontal boring through the earth for the wire conduit, minimizing asphalt and landscape damage.
Having essentially two separate systems further burdened the deadline, but the Ambassador Energy team was able to perform. They designed the system, procured permits and installed the solar panels, inverters and balance of system, hitting the tough Turlock Irrigation District [TID] timeline target.
"Our utility bills ranged from $800 to $1500 per month," said Doerksen. "By installing solar equipment, our bills will be offset by 75-85%. We will be immune to any extraordinary utility rate hikes and will send a strong message to the community and our customers that we are doing our part to make the environment stronger. Becoming environmentally friendly is becoming a bigger issue with our international and national clientele. They want to know what we are doing to help the planet. This is a great first step."
Doerksen continued, "We want to show the community what this means to a business like ours. So, we asked Ambassador Energy to design a 'show-friendly' inverter display wall. We are so thrilled with the work done by AE and our 'go green' message that we are inviting all of our friends, neighbors and the public to visit us at our Turlock location anytime for a tour of the system."
About Swenson Shear
For the last 50 years, Swenson Shear has been supplying the Metal Construction industry with quality and innovative metal-cutting tools. Founded in 1959 by Ralph Swenson, the company started out small with simple, yet effective shears to simplify the process of cutting common exposed-fastener panels.
In keeping pace with today's ever-growing industry, Swenson Shear now offers a larger product line of unique tools to cut hundreds of different metal panels offering a quick and efficient method to shear not only exposed-fastener panels, but also concealed-fastener, stone-coated steel and other metal shingles, shake, trim and soffit.
Like us on Facebook
About Ambassador Energy
Ambassador Energy (AE) is a solar training and distribution company, with 92 Authorized Agencies operating in 16 US states. On staff are two NABCEP Certified PV Installers [Fulgham/Kelso], a NABCEP Certified PV Technical Sales professional [Fulgham] and several NABCEP EL graduates. AE provides a turnkey, consolidated platform of renewable energy training, support, product-agnostic distribution and evolving mindshare to a nationwide network of Ambassador Energy Authorized Agents, who are contractors and entrepreneurs augmenting their portfolios by offering renewable energy solutions to their clients.
Ambassador Energy offers their Agency program to qualified candidates. New Agency Training is offered approximately once every four to six weeks.
Like us on Facebook
###