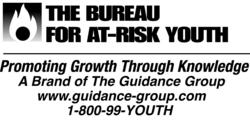 Woodbury, NY (PRWEB) January 31, 2012
The Guidance Group announces its publication of The Bureau for At-Risk Youth Winter 2012 Buyer's Guide. This catalog of low-cost, prevention tools is focused on helping at risk youth make smart, safe life choices.
Of special note in this new edition is a comprehensive collection of bullying and cyber bullying prevention tools. Included are live action DVDs, activity books, interactive games, story books, and much more.
Michael Pritchard's Stepping On Up DVD series for grades 3-6 provides a lively and powerful catalyst for group discussion and is an invaluable enhancement to any character education, life skills, and bullying curriculum.
The new Stand Up Against Bullying campaign provides posters and promotional giveaways that can change an entire school's culture from bullying tolerant to a safe, no bullying environment.
The Bureau for At-Risk Youth is offering free shipping and handling when you order online using code BCXH, on standard, ground delivery in the continental U.S. only. Offer expires 08/15/12 and cannot be combined with any other promotion.
About The Bureau For At-Risk Youth
Bureau for At-Risk Youth is a brand of The Guidance Group. The Guidance Group is a publishing company specializing in hands-on materials for drug and violence prevention, character education, life skills, school success, and mental health. Our innovative resources are used by hundreds of thousands of professionals, parents, children, teens, and adults throughout the United States and across the globe.
# # #