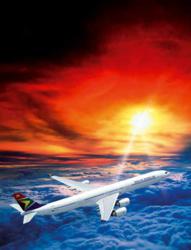 We believe that the route will play a strategic role in the growing economic relationships and dependencies between the continents. - SAA CEO Siza Mzimela
Johannesburg, South Africa (PRWEB) January 31, 2012
South African Airways debuted on its non-stop route to the capital of the People's Republic of China, Beijing, this morning departing from O.R. Tambo International Airport at 00:20. The flight was the first of three new weekly frequencies between South Africa and the Chinese capital. The route's introduction follows a comprehensive strategic partnership forged between the two countries in August last year.
"The introduction of aviation links between nations nurtures economic activity," says SAA CEO Siza Mzimela, "with domestic and regional benefit within the Southern African Development Community (SADC) expected to pay dividends both in terms of trade and tourism." Mzimela also believes that substantial demand for tourism and trade to China will contribute to the success of the new route. China is one of South Africa's largest trade partners.
The Johannesburg Beijing route will also contribute significantly in establishing South Africa as an aviation hub between South America and China, linking three of the five BRICS countries (Brazil, Russia, India, China and South Africa). "We believe that the route will play a strategic role in the growing economic relationships and dependencies between the continents. Commercially, SAA is able to deliver seamless travel from Sao Paolo via Johannesburg to Beijing, servicing all three continents" says Mzimela. SAA is a Star Alliance member providing SAA passengers access to an unparalleled global route network, including 20 destinations across the African continent.
SAA will operate its Airbus A340-600 long-haul aircraft on the route, non-stop with flying time clocking in at approximately 15 hours.
Johannesburg Beijing schedule (effective 31 January 2012)
Fligh SA288 from Johannesburg to Beijing
Days
Tuesday,Thursday, Saturday
Departs Johannesburg *00:20
Arrives Beijing *20:50 the same day
Return
Flight SA289 from Beijing to Johannesburg
Days
Tuesday, Thursday, Saturday
Departs Beijing *23:20
Arrives Johannesburg *08:10 the following day
*All times are local.
Issued by:
Dileseng Koetle
Head Group Corporate Affairs
Tel: +27 11 978 2298
Mobile: +27 83 400 0041
Email: DilesengKoetle(at)flysaa(dot)com or media(at)flysaa(dot)com
Web: http://www.flysaa.com
About SAA
South African Airways (SAA) is the leading carrier in Africa, serving 20 destinations across the continent, as well as major destinations within South Africa, from its hub, Johannesburg. It is a member of the largest international airline network, Star Alliance. SAA's core business is the provision of passenger airline and cargo transport services together with related services, which are provided through SAA and its four wholly owned subsidiaries: SAA Technical; Mango its low cost carrier; Air Chefs, the catering entity of SAA and South African Travel Centre (SATC). SAA CEO Siza Mzimela is the first woman to be appointed to the IATA Board of Directors in its 67 year history. SAA is the winner of the 'Best Airline in Africa' Award in the regional category for 9 consecutive years and the winner of 'Service Excellence Africa' for two consecutive years. Mango and SAA hold the number one and number two successive spots as South Africa's most on time airlines.
###