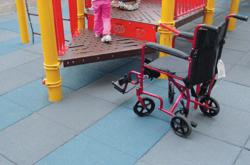 Lexington, VA (PRWEB) January 31, 2012
ParknPool, a leading online distributor, has added a brand new line of commercial playgrounds to their already extensive selection of outdoor furniture and site amenities. Most of these recently added outdoor playground sets meet the Americans with Disabilities Act (ADA) Accessible Guidelines for buildings and facilities. The ADA requires that newly constructed and altered state and local government facilities, places of public accommodation, and commercial facilities are readily accessible to, and usable by, individuals with disabilities.
Recreational areas, including commercial playgrounds, are among the facilities required to comply with these regulations. One result of these guidelines is incorporating ways to create play opportunities close to the ground and giving physically challenged children a wheelchair transfer station. A transfer station provides a platform onto which children using wheelchairs can transfer easily to the playground to enjoy the fun.
Another factor to consider when complying with ADA playground regulations is the surface underneath a child's playground unit. According to a recent study by the National Center on Accessibility, some surfaces may put children with disabilities particularly at risk. The benefit of having the appropriate surfacing is its ability to take a fall from the highest height, and its accessibility to a child or care giver that uses a mobility device. Wood chips or mulch, two common types of play area ground cover, cost less up front but are not easily accessible by individuals in a wheelchair or other mobility device. This loose fill surfacing will also typically cost the same amount as a solid, hybrid surfacing over the 15 year life cycle of a playground.
Ground level play components are those components that are approached and exited at ground level, such as spring rockers, swings, and stand-alone climbers. For ground level components to be considered ADA compliant, handicap access is required to at least one of each type provided in the outdoor playground set. Not all portions of elevated structures will be accessible to all children, so access to ground level components should be used to offset this.
Along with the above regulations, there are also guidelines that are considered essential for ADA accessibility, including:

Space for wheelchair maneuvering to and from the play component(s).
Wheelchair space at the play component(s).
Height and clearances of play tables.
Height of entry points or seats.
Provision of transfer supports (such as grippable edges or some other means of support).
For additional ADA regulations concerning school playgrounds, preschool playgrounds, surfacing material and use zones contact ParknPool at (877) 777-3700 to speak with one of their knowledgeable account managers.
About ParknPool:
ParknPool is Veteran Owned SBE/WBE Company and is the leading online supplier of commercial grade furniture and site amenities such as picnic tables, trash receptacles, park benches, bleachers and restaurant furniture. ParknPool was begun in 1998 in Orlando, FL and moved their headquarters to Lexington, VA in 2005.
# # #