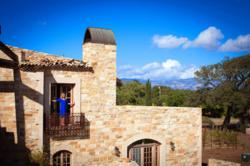 We discovered Sunstone Winery last summer on a wine-tasting weekend and knew right away we wanted to shoot here.
Santa Barbara, CA (PRWEB) January 31, 2012
After years of photographing its clothing catalogs in exotic locales all over the world, Santa Barbara apparel company Territory Ahead is featuring Sunstone Winery & Villa in Santa Ynez as the scenic backdrop for its Spring 2012 collection. The multi-channel retailer sent a 12-person photo shoot team to the 56-acre estate last October and the colorful results can be seen now through late June as the company mails its spring and summer catalogs to customers nationwide.
"We discovered Sunstone Winery last summer on a wine-tasting weekend and knew right away we wanted to shoot here," says Territory Ahead Senior Art Director Steven Burns. "The first thing you notice when you enter the estate is this grand stone villa set amongst the vines, and everywhere the smell of lavender and rosemary. You feel like you're stepping back in time to Old-World France, Italy or Spain."
That dreamlike, escapist spirit has been key to Territory Ahead's clothing designs since the company was founded in 1988. "We travel all over the world looking for new fabrics, ideas, patterns and details," says Territory Ahead Vice President of Merchandising Ryan Shadrin. "And then we mix in our own sense of West Coast style to design an adventurous clothing collection like nobody else."
Sunstone Winery & Villa enjoys a similar founding spirit. Not long after owners Fred and Linda Rice and their three children moved to the Santa Ynez property in 1989, they began building a European country-style home, tasting room and wine cave utilizing reclaimed materials, rustic trims and details from all over the world. "The fireplace came from Bordeaux, the roof tiles from Provence, and the wine cave door is from a prison in Normandy built by Napoleon," says son Bion Rice, now president of the winery. "Our goal was to create a warm, Old-World environment where wine and food could be enjoyed in a picturesque setting. It expanded from family and friends to neighbors and the community – and now we're open to the public for special engagements."
"I can't say enough about Sunstone's hospitality," Burns says. "The Rice family and everyone we met were wonderful hosts – plus there's amazing Sunstone wine at the end of the work day! We'd love to do another photo shoot there."
In addition to its award-winning, certified organic Syrah, Merlot and Cabernet Franc wines, the Sunstone Winery & Villa is available for private events, corporate events and weddings. And the tasting room is open to the public seven days a week from 10 a.m. to 4 p.m. For more information about Sunstone Winery & Villa, contact Anna Rice at (800) 313-9463.
Territory Ahead began its journey in 1988 as a new kind of clothing company, offering personality through special fabrics; fine details; and easy, wearable designs. The company offers a collection of men's and women's clothing and accessory items each season through its nationally distributed catalog; website; and retail stores in California, Washington, and Illinois.
###