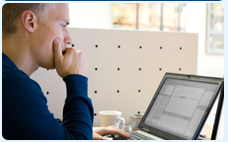 We know that with each success, the client gets more comfortable trying other emerging tactics with online marketing. We are so happy to guide them on that journey."
Plano, Texas (PRWEB) January 31, 2012
To save their contractor website client considerable time and expense, WSI, Certified Internet Marketing Consultant developed and implemented a simple web form enhancement to http://www.drainagespeciallists.com. The new site is part of an integrated Internet marketing plan to help the small business seem big and be profitable. The company is a small business that solves drainage problems for residential and commercial property in North Texas.
The problem common to service contractors is the time and expense chasing unqualified bid requests. In the Dallas Fort Worth area, contractors must drive across town to view projects and bid for work. This can consume a good portion of the day and be costly in time and gas expense when the job is not won or if it is too small.
"WSI's creative idea to add an "Upload Picture of Problem" to our web form has my prospects sending me visual detail of the issue they have. So, before I even speak with them, I already can "see" what the problem is I can prepare expert advise and also decide if it is a project worth pursuing. Furthermore, I am able to prepare a customized proposal that can be delivered on the spot when I visit the site." Says Alan Weaver, president. "And with the optimization of the website, I am now able to be selective and see my business growing."
To succeed in the Internet age small and medium sized businesses (SMBs) need a great business idea, a solid revenue model and an evolving Internet Marketing strategy that continuously draws upon current best practices. WSI Consultants being trained and certified in Internet marketing, are able to offer Affordable Web Solutions, Build Targeted Traffic and help Convert more Customers Online – fulfilling the WSI slogan of the ABCs of Internet Marketing Success™.
"I could not be more pleased with the results of our efforts applied to this project. It is a first step in our long-term Internet marketing journey with the client. We aim to be patient with clients as they learn the opportunities for digital marketing and know that with each success, the client gets more comfortable trying other emerging tactics with online marketing. We are so happy to guide them on that journey." says Patricia Jordan-Hinojos, Digital Marketing Strategist.
A website's visibility on the Internet can be the pivotal difference between a successful and targeted Web presence. Patricia Jordan-Hinojos, as a WSI Consultant, works with her clients in the Business to Consumer (B2C) niche to create websites that work for the client. The WSI eFusion solution used for this project allows for seamless scalability, user-friendly content management system and a database to capture all inquiries. The site's executive dashboard helps the site owner keep informed with actionable business intelligence.
Patricia and her team of Web Developers, Internet Marketing Experts and Performance Analytics Consultants have been helping small and medium businesses (SME's) leverage the Internet since 2003.
About WSI:
WSI is the world's #1 franchise offering Internet marketing services to suit the needs of multiple industries. The company has the world's largest Internet Consultants' network and a strong head office in Toronto, Canada. WSI Internet Marketing Consultants have helped thousands of small and medium-sized businesses realize their online marketing potential. By using innovative Internet technologies and advanced Internet marketing strategies, businesses can have a WSI Internet Marketing System tailored to their individual needs to elevate their Internet presence and profitability to new levels. In 2009, WSI was the proud recipient of 5 Standard of Excellence Awards at the Annual WebAwards Competition organized by the Web Marketing Association (WMA). WSI has been ranked the #1 Internet Services Franchise in Entrepreneur Magazine's Franchise 500 listing for 10 years in a row. Entrepreneur Magazine also ranks WSI at #13 among the Top Home Based Franchises and #49 in America's Top Global Franchises. With the support and cooperation of its customers, franchise network, employees, suppliers and charitable organizations, WSI aims to help make child poverty history through its global outreach program. For more information about WSI's offerings and business opportunities, please visit our website at http://www.WSIwebSMART.com
For more information on WSI's offerings, please contact Patricia Jordan-Hinojos at patricia(at)wsiwebsmart(dot)com or by phone at 972-208-0926
###