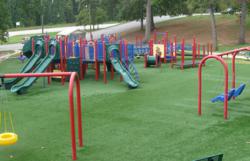 Lexington, VA (PRWEB) January 31, 2012
According to the Public Playground Safety Handbook, there are more than 200,000 emergency room treated injuries that occur annually on public playgrounds. Forty-four percent (44%) of those injuries are caused by falls from the playground set, to the ground below. If proper protective surfacing material were used, many of these injuries can be prevented, or lessened. Protective surfacing under commercial playground sets is often an after-thought when purchasing an outdoor playground, however it is crucial that the correct surfacing material is used, and for the right area and use zone. ParknPool, a leading online distributer of commercial playgrounds, outdoor furniture and site amenities, has the knowledge and resources to help clients choose the correct playground surfacing material adding to new or existing playgrounds.
Due to natural weathering and general wear and tear, dirt and grass are not considered appropriate playground protective surfacing materials. Asphalt, concrete and carpet are also not appropriate, as they will not provide adequate cushioning in the case of falls. Appropriate surfacing materials for playgrounds can be divided into two groups: unitary surfacing material, such as rubber tiles, mats, poured-in-place rubber and artificial turf (similar to the Indianapolis playing field of Super Bowl XLVI); and loose fill surfacing materials, such as shredded rubber, manufactured wood chips, sand, and pea gravel. Unitary surfacing materials are ideal for playgrounds intended for toddlers (ages 6 to 23 months), handicap accessible playgrounds, or multi-use play areas. Loose fill surfacing material can be a more cost effective option, however as minimum required depths must be maintained at all times, more material must be used up front, and must be continually added.
According to the Public Playground Safety Handbook, loose fill surfacing material will compress at least 25% over time, due to weathering and use. As a result of their absorbing properties, different loose fill material will require different minimum fill levels. When choosing a protective surfacing material for commercial playgrounds, keep in mind that whether unitary or loose fill, dark colored surfacing can become hot if exposed to direct sunlight, and can cause blistering on bare feet.
To ease the commercial playground buying process, ParknPool staff has extensively studied the Public Playground Safety Handbook. For more information about ParknPool, or playgrounds and playground safety, call 877-777-3700.
About ParknPool Corporation:
ParknPool is Veteran Owned SBE/WBE Company and is the leading online supplier of commercial grade furniture and site amenities such as picnic tables, trash receptacles, park benches, playgrounds, bleachers and restaurant furniture. ParknPool was begun in 1998 in Orlando, FL and moved their headquarters to Lexington, VA in 2005.
###