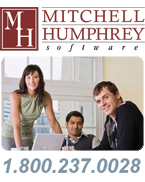 Our focus is on providing the same robust functionality we have been recognized for, while concentrating on creating the best possible user experience by simplifying performance of every day transactions
Saint Louis, Missouri (PRWEB) January 31, 2012
Before there was your average office computer, Mitchell Humphrey & Co., a provider of software solutions and services, began their software company and focused on financial management systems. They are now celebrating 35 years of success through their quality products and dedicated customer service. To begin their anniversary, Mitchell Humphrey & Co. is planning to release a few details on their newest and third generation of Financial Management Software.
CELEBRATING A MILESTONE
Thirty-five years ago, Mitch Humphrey had a vision of providing software development, implementation, and consulting services to health care organizations that had been attempting to utilize decades old systems to respond to the rapidly increasing information demands facing their industry. With his first client, Vanderbilt University Medical Center, the company was off to a good start and soon many more were to follow.
Since 1977, Mitchell Humphrey has been providing computer software and services to clients in both the public and private sectors. Their complete line of software products are completely designed and supported by their own team of CPAs, business specialists, and IT professionals.
In 1999, Mitch Humphrey decided to pass ownership of the company he built to the employees. Mitchell Humphrey & Co. formed an Employee Stock Ownership Plan which provides for the distribution of stock shares to employees.
In 2002, Mitchell Humphrey & Co. acquired the software of a company that designed and developed a host of community development solutions for local governments throughout the State of New Jersey and the Northeast. This software was the basis for their decision to develop a brand new line of citizen services solutions.
In 2008, Mitchell Humphrey introduced an additional product line, called FastTrackGov®, in partnership with Microsoft. FTG® was built using the rapidly growing Microsoft Dynamics CRM platform, which provides a powerful infrastructure for their products. FastTrackGov is designed to provide government organizations with an easy-to-use, feature-rich suite of web-based solutions for Licensing, Local Permitting, Code Enforcement, Inspections, Citizen Request Tracking, and Cashiering through CashTrackGov.
THE NEXT GENERATION OF FINANCIAL MANAGEMENT SOFTWARE
Today, clients all across North America benefit from Mitchell Humphrey's solutions in citizen services, accounting, financial management, human resources/payroll, community development, and cashiering. Mitchell Humphrey's latest creation focuses on maximizing the user experience and making information more accessible to everyone in the organization. "Over the years, we have continued to succeed in the volatile, rapidly changing software industry thanks in part to a sound business philosophy, but most importantly, thanks to opportunities to work with and serve our clients," stated Mitch Humphrey.
The new generation will have an entirely new interface including tabs, sidebars, and ribbons. There will be a grid layout for all inquiry and select functions. It will offer attachments by journal entry and easy AR/AP recurring invoices, to name a few. "Our focus is on providing the same robust functionality we have been recognized for, while concentrating on creating the best possible user experience by simplifying performance of every day transactions," stated Kim Schaefer, President and COO.
The new generation is designed to make the user's experience easier through a SharePoint dashboard, alerts, and a web-based query tool. Lastly, there will be a web interface for distributed functions such as procurement and inquiry.
To learn more about Mitchell Humphrey, visit their web sites at http://www.mitchellhumphrey.com and/or http://www.fasttrackgov.com or schedule a complimentary on-line demonstration or web-based learning session on the new features at http://www.mitchellhumphrey.com/schedule-a-demo. For more information about Mitchell Humphrey's software solutions or to request a quote, visit http://www.mitchellhumphrey.com/get-information-now.
###