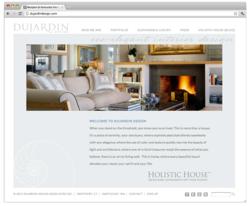 Westport, CT (PRWEB) January 31, 2012
Trudy Dujardin, president of Dujardin Design Associates in Westport, Conn., has announced the company's expansion into a new level of internet-based communications with a fresh website and blog redesign, in addition to a Facebook page and Twitter account. The enhanced communications effort will allow Dujardin Design to more quickly and easily share news, decorating ideas and inspiration, and thoughts on living "gently green," the focus of Ms. Dujardin's one year-old blog, Holistic House.
"My clients and friends have long encouraged me to put more of my ideas online," says Ms. Dujardin. "When I launched my blog, Holistic House, last year, I knew it was the perfect platform for information about living a healthy and beautiful life. Our homes can help support our health and happiness for many years, and I wanted to share all that I have learned in years of study about creating environmentally friendly interiors and lifestyles."
The new website at http://www.dujardindesign.com, has been beautifully redesigned, and features new photos and projects, as well as a deeper focus on sustainable design for ourselves, our families and our planet.
The newly redesigned blog at http://www.holistichouse.com, is now easier to read and access all the information Ms. Dujardin shares on living "gently green."
A Facebook page has been created to share ideas and thoughts that inspire and delight Ms. Dujardin. You can friend Dujardin Design at [http://www.facebook.com/DujardinDesign.
For more information on green living, fabulous design and photos of inspirational work, follow Dujardin Design at http://www.twitter.com/DujardinDesign.
About Trudy Dujardin
Trudy Dujardin, ASID, LEED AP+ID+C, is nationally known for her passion for eco-elegance, as well as award-winning interiors that combine sophistication, elegant use of color, and an intuitive understanding of her clients' lifestyles. Her graceful approach to gently green design reflects a deep respect for Historic Preservation, the surrounding landscape, and abundant comfort. Based on her belief that a healthy home is the ultimate luxury, she is a LEED Accredited Professional with a specialty in Interior Design and Construction, recognizing her thorough understanding of green building practices and principles.
As an adjunct professor at Fairfield University in Connecticut, she taught the university's first semester-length course on Sustainable Interior Design. She serves on Traditional Home Magazine's Green Advisory Panel, has written a column, Gently Green, for Nantucket-based Portfolio Magazine, and is a member of the advisory board of atHome Magazine.
From offices in Westport, Connecticut and Nantucket, Massachusetts, Dujardin Design Associates works with high-end clients, architects and developers to create signature interiors, many of which are featured in the design industry's most prestigious publications. Success is achieved when a beautiful home is also a healthy home.
###