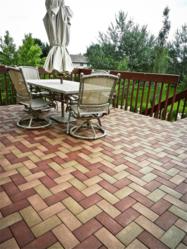 Scranton, PA (PRWEB) January 31, 2012
Through a strategic alliance, AZEK VAST Pavers are being offered through AZEK's distribution channel as part of its popular lineup of low-maintenance, exterior products. Contractors can now get into the hardscape portion of a project with these easy to install pavers that fit together quickly and neatly on a grid. AZEK VAST Pavers include landscape pavers, permeable pavers, and resurfacing pavers that are perfect for patios, walkways, driveways, pool areas, rooftops, and decks for either residential or commercial applications.
Manufactured with up to 95 percent post-consumer recycled rubber and plastics, the 4 X 8 inch pavers offer visual appeal, design flexibility, strength, and durability. Available in five appealing colors, AZEK VAST Pavers are stain, impact and scratch resistant. With an innovative grid system and less than half the weight of traditional pavers, AZEK VAST Pavers install up to three times faster than other pavers. The 16 X 16 inch grid also ensures straight lines and assists with a level layout. Consider that the pavers can be cut using a regular miter or jigsaw – never any need for a masonry wet saw - and all of these factors add up to greatly reduced time and labor.
AZEK VAST Pavers are a true green building solution - having utilized material recycled from 285,000 scrap tires and 8.5 million plastic containers and thereby diverting a total of more than five million pounds of rubber and plastics from U.S. landfills since 2008. AZEK VAST Pavers help projects earn LEED® certification easier than any other pavement. And, like all AZEK products, AZEK VAST Pavers are engineered to last, featuring a lifetime no-crack guarantee for residential installations.
For more information, visit AZEK Building Products' website at http://www.azek.com. To learn more about AZEK VAST Pavers, visit http://www.vastpavers.com.
About AZEK Building Products:
With more than 25 years of cellular pvc manufacturing experience, AZEK Building Products makes and markets premium, low maintenance exterior building products under the AZEK brand such as AZEK Deck, the leading brand of low-maintenance decking, and AZEK Trim, the leading brand of low-maintenance trim. Other AZEK products include AZEK Mouldings, AZEK Porch, and AZEK Rail. All of these products offer tangible benefits as an ideal wood replacement product for a myriad of outdoor uses. For more information about AZEK Building Products, call 1-877-ASK-AZEK (275-2935) or visit the AZEK website at http://www.azek.com.
About VAST Enterprises, LLC:
VAST applies its patented technology to transform recycled materials into a new resource for green building: composite masonry. VAST composite products — including landscape pavers, permeable pavers for stormwater management, roof pavers, and deck and patio resurfacing pavers — offer an engineered alternative to molded concrete and clay brick. VAST meets the most demanding requirements for aesthetics, durability, sustainability and installation efficiency. Award-winning VAST pavers deliver rich colors, superior slip resistance and unbeatable strength at one-third the weight of concrete pavers. VAST can contribute to more LEED® credits than any other paver. Today, every 5,000-square foot VAST landscape installation keeps 2,500 scrap automobile tires and 75,000 plastic containers out of U.S. landfills. Tomorrow? The Future is VAST. Learn more at vastpavers.com.
LEED® (Leadership in Energy and Environmental Design) is a registered trademark of the U.S. Green Building Council.
###