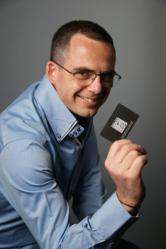 Buzcard© has reinvented the business card. It is another successful way to make print interactive.
Miami, FL (PRWEB) January 31, 2012
Two years after its French launch, Buzcard© will be available to the U.S. market. Buzcard© is the "forever business card."
While the card front may include as much or as little information as the purchaser chooses, the back of the card features a personal QR code that links to the purchaser's updatable personal profile. Change employer? No worries. Update the profile. Move to a new address? Not a problem. Keep the business card; change the profile. Buzcard© clients may update their profiles as many times as they choose for free.
Buzcard© is the brainchild of co-founder Eric Mouyal. "I love paper. Technology does not have to replace paper. I think paper is good… if it has 'a little something else.' Buzcard© is intelligent paper. It turns a business card into a value-added document you never need to replace. It is ideal for an organization to show it's tech-savvy and grow its database, or for individuals who want a personal card to share their non-business life, avocation, or job search."
Buzcard© began its U.S. distribution with a soft roll-out at last week's AppForum 2012. AppForum is PODi's annual conference for industry leaders in digital printing, marketing service providers, enterprise marketers, and manufacturers of software and hardware systems.
Dave Erlandson, VP and General Manager at Caslon & Company, the organization that manages PODi, was happy to feature Buzcard© to its membership at the AppForum because it embraces the entrepreneurial spirit behind the product. "Buzcard© has reinvented the business card. It is another successful way to make print interactive. We had a lot of great response from our membership," said Erlandson.
Buzcard© will be available for U.S. purchase at http://www.buzcard.me beginning on February 1, 2012.
About Buzcard©
Buzcard© can be read by all free QR code readers and is friendly to all mobile platforms.
Buzcard's intelligent Forever Card allows purchasers to design and carry business cards that allow recipients to:

Scan and save a v-card into their mobile device.
Directly link to the card owners profile page which includes contact information, social media and Skype addresses, photos and other news provided by the card owner.
Receive an email every time the profile is updated.
In addition to maintaining one set of business cards that always provides the latest information, the card owner collects the recipient's email address when they scan the card.
Buzcards are printed in the United States on 16 pt card stock with either matt or high-gloss UV finish. Cards are available with square or rounded edges.
Buzcard's Forever Cards can be ordered online at a cost of $125 for 1000 cards, $100 for 500 cards, or $75 for 250 cards. Classic Buzcards, that only allow a recipient to upload a vcard from the QR code, are available at a lower cost.
Buzcard© is licensed and distributed in the United States by co-founder Eric Mouyal. Buzcards© will be available to resellers under private label.
Co-founder Yoram Moyal runs the French distribution for Buzcard©. Buzcard's core system is developed, hosted, and maintained by Publimation, a variable data printing (VDP) software company co-founded by Eric Mouyal.
About Eric Mouyal
Eric Mouyal is a French business man who recently relocated his family to the United States. He remains a partner in two French companies, Publimation and B. Moss.
As his three business ventures suggest, Mouyal has always had a passion for adding value to paper. Buzcard© adds an online component for business cards to ensure the latest information is always available to card recipients. Publimation is a variable data printing (VDP) software company that allows digital printers to personalize images and text in direct mail and other printed materials. B. Moss designs and produces dimensional printed materials including direct mail, giveaways, and presentation materials.
In addition to his extensive international business experience, Mouyal in a graduate of the Ecole Nationale Superieure des Telecommunications with a specialty in Strategic Management of Innovation. He also has a Masters degree in Fundamental Physics.
# # #