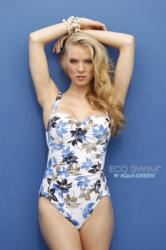 ECO SWIM BY AQUA GREEN is known for stylish swimwear with a great fit.
Easton, PA (PRWEB) January 31, 2012
ECO SWIM BY AQUA GREEN, the global leader in stylish and sustainable swimwear, announces distribution through new retail partners.
"We're a family-owned business, and a new retailer is like a new member of our family," says Alex Waldman of ECO SWIM BY AQUA GREEN.
The new retailers are great for the ECO SWIM BY AQUA GREEN family because they embody two of the most important elements of the ECO SWIM BY AQUA GREEN brand: fit and style.
ECO SWIM BY AQUA GREEN swimsuits are made from upcycled materials that would otherwise become trash, and their new retailers are drawn to them because the brand doesn't sacrifice style for the sake of the environment. Everything But Water is a retailer that provides women with everything they need, from bathing suits to cover-ups to beach accessories, and specializes in outfitting women with dream attire for their dream getaway.
Everything But Water has retail locations from coast to coast across the United States, and reaches many more customers through online distribution. They will carry a selection of ECO SWIM BY AQUA GREEN bikinis, tankinis, board shorts, and cover ups.
Canyon Beachwear, another retailer with both online and brick and mortar locations, has a mission to be "the best women's designer swimwear and beachwear boutique and bathing suit shop in the country," and caters to a customer who wears designer fashion in every part of her wardrobe, including her swimwear.
Canyon Beachwear has 6 locations in California and one location in New York City. The retailer carries ECO SWIM BY AQUA GREEN one piece swimsuits, dresses, drawstring skirts, and board shorts.
ECO SWIM BY AQUA GREEN swimsuits are known throughout the industry for being stylish pieces, and they're also widely recognized for being among the best-fitting swimsuits for every body type. Swimco, a retailer with locations across Western Canada,is known for its fit experts. The Swimco experience is all about finding the right fit, and the Swimco fit experts are well-versed in the art of finding swimsuits that flatter every woman's figure. The retailer will carry ECO SWIM BY AQUA GREEN swimsuits both online and at their retail locations.
Swimco customers can book private fit sessions with fit experts to find a "Bikini for Any Age." Online customers can also shop by problem area, including hip slimmers, waist shapers, and tummy tamers.
Aqua Beachwear, located on the West Florida coast, is another new member of the ECO SWIM BY AQUA GREEN family. Don and Mary Bauer purchased the business while honeymooning on Sanibel Island in 1994. One month into owning the business, Mary heard a customer crying in the fitting room and realized that selling swimsuits can be as difficult as buying them.
Over 15 years later, Aqua Beachwear now employs dedicated fit specialists so that every customer in every shape and size can enjoy a positive swimwear shopping experience.
Aqua Beachwear has grown since then, and stores are located in Florida, the Sun Belt, and the US Virgin Islands. The store is carrying selections from several ECO SWIM BY AQUA GREEN collections, including the Basics, Classics, and Forever collections.
ECO SWIM BY AQUA GREEN is the world's leading sustainable swimwear brand, making suits from recycled materials. ECO SWIM BY AQUA GREEN is based in Easton, PA and its swimsuits can be purchased at specialty and department stores, as well as on select websites. For more information about ECO SWIM BY AQUA GREEN's environmental leadership, swimwear and events, visit http://www.ecoswim.com.
###