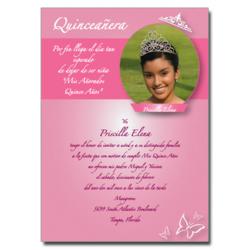 Daytona Beach, Florida (PRWEB) January 31, 2012
This week Expressionables announced that it is expanding its current line of personalized party supplies and stationery to include Quinceanera invitations. The new line of cards will compliment Expressionables' current birthday offerings.
Expressionables Quinceanera invitations will come in a variety of sizes ranging from 3.5in. x 7in. flat stationary cards to 5in. x 7in. folded invitations. Cards can be purchased in quantities starting at 15 and include envelopes. All Sweet 15 items can be personalized with photos and messages. They also are offering unique themed invitations like the popular VIP pass with matching lanyard.
Besides Quince Anos invitations, Expressionables is also introducing a line of matching personalized wrapping paper, note cards, and party favors – all themed for Quinceanera or "Sweet 15" parties and events.
Along with personalized invitations, Expressionables also offers personalized wrapping paper, announcements, party favors and keepsakes for holiday celebrations and milestone events throughout the year including Bar/Bat Mitzvahs, Christenings, Baptisms, First Communions, and Birthdays.
About Expressionables – Founded in 2010, Expressionables is an e-commerce printing company focused on providing high-quality products and excellent customer service to consumers worldwide. The Expressionables product line includes personalized invitations, announcements, wrapping paper, and keepsakes for life's special moments and milestone occasions. Expressionables is powered by DME, a family-owned company approaching 30 years of experience in personalization and variable direct marketing communications. More information about Expressionables can be found at Expressionables.com.
###