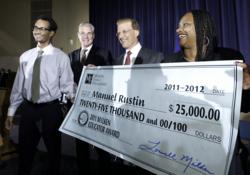 Research confirms that an effective teacher is the single most important school-related factor in raising student achievement.
Santa Monica, CA (PRWEB) January 31, 2012
Two routine schoolwide assemblies turned into the surprise of a lifetime when the Milken Family Foundation (MFF) honored—and stunned—Manuel Rustin, a social studies teacher at Pasadena's John Muir High School and Carrie Carnes, a math teacher at Cathedral City High School, with a Milken Educator Award. The Award, presented by MFF Chairman and Co-Founder Lowell Milken and CA Superintendent of Public Instruction Tom Torlakson, comes with a no-strings-attached cash prize of $25,000.
This year marks MFF's 25th anniversary recognizing and rewarding America's top teachers with what Teacher Magazine deems "the Oscars of Teaching." The Awards program was conceived by Lowell Milken to recognize the importance of outstanding educators and encourage talented young people to enter the teaching profession. Unlike most teaching awards, the Milken Educator Awards has no formal nomination or application process. Each year exceptional teachers, principals and specialists—recommended without their knowledge by a blue-ribbon panel appointed by each state's department of education—are surprised with the news of their awards.
"Our public education system is at the heart of America's promise and is essential in safeguarding the American dream for future generations. With research confirming that an effective teacher is the single most important school-related factor in raising student achievement, it is clear to see the critical role that outstanding teachers play in shaping our country," said Lowell Milken. "We created the Milken Educator Awards to proclaim in a very public way that greatness in education must be recognized and rewarded. As the program's motto extols, 'the future belongs to the educated.' Manuel Rustin and Carrie Carnes are education game-changers who empower students and teachers to exceed their own expectations of what is possible. They are inspirations and example for communities, policymakers, and students who may be inspired to enter the profession, and for all of our nation's K-12 educators."
As lead teacher for John Muir High's Smaller Learning Community (SLC) in Arts, Entertainment and Media (AEM), Manuel Rustin creates such a stimulating environment that when he offered a state test prep boot camp after school for a group of 30 students, 60 lined the halls ready to go. Rustin made room for them all. His teaching effectiveness is characterized by an innovative approach to instruction which has motivated higher thinking skills, increased peer learning relationships and strengthened ties between the curriculum and real world. In a school that had traditionally been underperforming, Rustin's students are seeing noticeable gains in achievement.
He is a member of the school's leadership team and its Advancement Via Individual Determination (AVID) site team, as well as a lead trainer for Thinking Maps—a common visual language and graphic organizing system for note-taking—now in every classroom. Rustin was instrumental in the overall redesign of the school into SLCs, and his AEM SLC became certified in June 2011.
Carnes is a teacher who truly goes the extra mile. Not only does she travel with her sophomore students and their parents to eight universities, but Carnes also ran a marathon with a group of her students. The school's (AVID) coordinator, she pushes pupils out of their comfort zones and into top-achieving status. And she does it all with equal measures of gusto and humility. Carnes conducts assessments at the beginning, middle and end of the year, tailoring math lessons to help in weak areas. She promotes critical thinking by encouraging students to solve equations using multiple methods. While she underscores the importance of arithmetic, Carnes also helps develop character and confidence in addition to math skills. Beyond the classroom, Carnes trains teachers for AVID and works with them to solve issues and problems for various grade levels. She presents on AVID at the county level, attends state-level conferences, and devotes time to mentoring new and tenured teachers.
The Awards story doesn't end with the surprise notification. New recipients are invited to join the Milken Educator Network, a group of distinguished educators whose expertise serves as a valuable resource to fellow educators, legislators, school boards and others shaping the future of education.
Since first presented to a dozen California teachers, the Milken Educator Awards program has grown to become the nation's preeminent teacher recognition program having honored more than 2,500 teachers, principals and specialists with over $63 million in individual, unrestricted $25,000 awards. More than $135 million has been devoted to the overall program, which includes powerful professional development opportunities throughout the recipients' careers in education. The exponential impact of the more than 2,500 outstanding teachers has helped to reform American K-12 education. The Milken Awards alternates yearly between elementary and secondary educators. Each participating state department of education appoints an independent blue ribbon committee to review candidates that are sourced through a confidential selection process and recommend candidates to the Foundation.
Award Criteria:
Candidates for the Milken Educator Awards are selected on the basis of the following criteria:

Exceptional educational talent as evidenced by effective instructional practices and student learning results in the classroom and school;
Exemplary educational accomplishments beyond the classroom that provide models of excellence for the profession;
Individuals whose contributions to education are largely unheralded yet worthy of the spotlight;
Early- to mid-career educators who offer strong long-range potential for professional and policy leadership; and
Engaging and inspiring presence that motivates and impacts students, colleagues and the community.
For more information about the Milken Educator Awards, visit http://www.mff.org or call the Foundation at (310) 570-4775. You can follow the Foundation at http://www.twitter.com/milken, http://www.youtube.com/milkenaward and http://www.facebook.com/milkeneducatorawards. Take a peek at the surprise of a lifetime that awaits up to 40 of America's best educators: http://www.youtube.com/watch?v=GCmGOvmNtV8.
An education reformer for three decades, Lowell Milken created the Milken Educator Awards to recognize exemplary teachers and established TAP™: The System for Teacher and Student Advancement to generate more talented teachers, http://www.tapsystem.org. Lowell Milken recently provided the founding gift for the Lowell Milken Institute for Business Law and Policy at UCLA School of Law. For more information about Lowell visit http://www.lowellmilken.com.
# # #