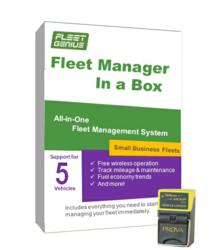 The program opens up an exciting partnership alternative for companies in fields related to vehicle fleet maintenance and management to earn a referral for each customer of theirs that acquires the Fleet Genius system,"
Carbondale PA (PRWEB) January 31, 2012
Prova Systems, a leading developer of free-wireless vehicle fleet management systems, announces the launch of its Fleet Genius Affiliate Program. The new program provides affiliates with a 10% referral commission on all products sold through Prova Systems Fleet Genius on-line store. Fleet Genius and Fleet Manager in a Box are designed for SME fleets and SOHO fleets and also support consumer vehicles. Fleet Genius's free-wireless operation guarantees the lowest operating costs of any fleet management system available.
Anyone in an associated vehicle management and maintenance industry can become a Fleet Genius Affiliate and make money online, starting today from referral sales to businesses and consumers. Affiliate registration is simple and free and only takes a couple of minutes. The Fleet Genius program provides each affiliate with choices of banners and linking options that can be added to a website or sent via email. The Fleet Genius affiliate program provides real-time tracking right from the affiliate control panel, allowing the affiliate to see exactly how many referrals he or she has at any given time.
Affiliates will enjoy unlimited earning potential. In addition, Prova's Fleet Genius provides phone and email support to all Fleet Genius customers to make sure that every person using the Fleet Genius Fleet Manager in a Box fleet management product has the help and support needed to implement a successful fleet management system. Affiliates cannot earn a commission on self-referrals or on resold accounts, for those that are interested in reselling the Fleet Genius Fleet Manager in a Box please check out our information on becoming a value added reseller.
"We created this program to support potential partners who were interested in generating income from a strong referral program but who didn't have the capacity or the interest to be a Prova Systems Valued Added Reseller (VAR) Partner. The program opens up an exciting partnership alternative for companies in fields related to vehicle fleet maintenance, automotove repair and fleet management to earn a referral for each customer of theirs that acquires the Fleet Genius system," remarked John Collins, President of Prova Systems.
Potential partners may also be interested in Prova's Value Added Reseller Program which offers a greater revenue opportunity for a higher level of commitment from a Prova partner. Prova also offers an Integration Partner program which offers application development partners the ability to integrate Prova's Fleet Genius hardware into a their own fleet management applications and offers the VAR opportunity alongside.
The Fleet Genius affiliate program is available today and partners can be approved within 72 hours.
ABOUT PROVA SYSTEMS: Prova Systems designs and manufactures wireless vehicle diagnostics systems for use in fleet management, drive-by emissions testing, secure access controls, usage based insurance programs and other critical commercial applications. Prova's line of wireless OBD-2 vehicle monitors, wireless sensors and analysis products capture real-time operational diagnostics for use in its own products and 3rd party products. The company focuses on OEM and aftermarket technologies which make consumer and commercial vehicles safer, more fuel efficient and greener. The company is based in Carbondale, PA and sells its products directly and through resellers in the USA and internationally. http://www.provasys.com
###