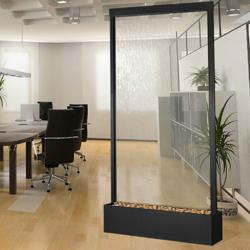 water walls can be designed to feature the company's logo within the fountain design.
Arden, NC (PRWEB) January 31, 2012
Kinetic Fountains has today debuted new selections in water walls. These innovative, beautiful indoor water features are available in a range of innovative materials and designs, ensuring that businesses are able to create a soothing, relaxing environment in keeping with the style of their office.
Water walls offer businesses myriad benefits. For instance, many doctor's offices are finding that installing these indoor water features in their waiting rooms provide patients with relaxation and can assuage stress and anxiety. Dentist offices are finding similar results.
Another benefit found here is the fact that water walls can be designed to feature the company's logo within the fountain design. For example, a company can have their logo etched into natural stone, or applied to the glass waterfall surface in any style, color or design needed to maintain continuity.
Materials available for water walls include metal and glass, slate, stone and more. Stainless steel and clear glass offers a minimalist, modern look, but copper and slate can provide an "old world" look and feel for warmth and character. Frame material options include stainless steel, gold and silver metallic finishes, copper finishes and colors like black, white and grey. Face options include storm glass, rain glass, painted glass, Azulite blue glass, copper panels, slate panels, stainless steel mesh and mirrored glass to name only a few of the choices available.
Indoor water walls allow businesses to provide the soothing sound of running water within their establishment and to bring the beauty of nature indoors. These stunning water features are ideal for use in waiting rooms, board/meeting rooms, hotel lobbies and restaurants, and can provide not only relaxation and beauty, but branding benefits and tremendous style, as well.
To find out more about the water features and water wall on offer, visit the company at http://www.KineticFountains.com.
About Kinetic Fountains: Kinetic Fountains is located in the stunning Blue Ridge Mountains in North Carolina. The company is dedicated to giving customers the means to enjoy the incomparable beauty of nature and the health benefits offered by running water in the form of indoor fountains, outdoor fountains, logoed fountains and more.
###