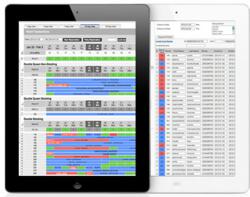 Frontdesk Anywhere's mobile capabilities allow us the freedom to get out from behind the desk and serve our guests in a much more personal way
San Francisco, CA (PRWEB) January 31, 2012
Frontdesk Anywhere, a leading web-based hotel property management software company, today announces full mobile access to its services via iPad, iPhone and Android devices according to its website. This offers hotel properties the ultimate in "Anywhere Access" to their availability, reservations and guests coupled with a robust reporting engine that provides over 30 key reports to help run a business wherever you may be.
According to the Frontdesk Anywhere website, not only can properties now check their availability and make reservations from their mobile devices, "Anywhere Access" also allows them to go about their daily operations in new and innovative ways. Once such property taking full advantage of Frontdesk Anywhere's mobile prowess is The Tremblant Elysium Ski Resort in Quebec, Canada. Guests are checked in not at the frontdesk but at their own villa via iPads while housekeeping updates cleaning and maintenance status in real-time via iPod Touch devices.
"Frontdesk Anywhere's mobile capabilities allow us the freedom to get out from behind the desk and serve our guests in a much more personal way, wherever they may be on the property" said The Tremblant Elysium's owner Kamal Shah. "As hotel management systems are concerned, it's very quick to learn and extremely easy to use while still providing us with all the functionality and reporting we need to efficiently manage our property."
"Web-based property management systems have experienced vast mainstream adoption over the past number of years as more and more property managers are making use of smartphones and tablet devices in their daily activities," stated Frontdesk Anywhere co-founder, Joe Kiernan. "It was a natural progression for us to close the loop between web and mobile, offering a truly untethered experience to our customers. It's also reassuring to know that your cellular data network is there to fall back on should there ever be a problem with your internet connectivity"
ABOUT FRONDESK ANYWHERE
Frontdesk Anywhere is a leading provider of innovative hotel management software for independent properties. To date, over 60,000 hotel guests have had their stay managed with Frontdesk Anywhere – from the initial online booking process through arrival, onsite operations and checkout. The company is focused on converging processes traditionally performed by separate systems into a single all-in-one productivity application. All modules are seamlessly integrated within the application and accessible from any computer and most mobile devices. The company is a privately held corporation based in San Francisco, California.
For further information please visit FrontdeskAnywhere.com.
###