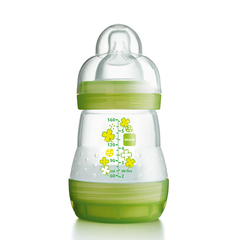 The MAM Anti-Colic Bottle has shown to be helpful in reducing colic symptoms in fussy babies.
New York, New York (PRWEB) January 31, 2012
While approximately 25% of babies have colic, the diagnosis often comes as a surprise to many first time moms. When Julia's* four-week-old started crying uncontrollably, she had no idea what was troubling her newborn daughter.
"She was my first baby," Julia said. "She was crying all the time and it seemed like she spit up more than she ate. I had no idea it was colic until her grandmother mentioned it."
Even the most prepared new parent can be caught off guard when colic symptoms arise. "I thought it was something I was eating because I was breastfeeding," explained Elyse. "I didn't know how to console my baby and I didn't know if she was in pain or just crying. I felt helpless. After a few weeks, the pediatrician finally told us my daughter had colic."
Educating expecting and new parents on colic before it strikes can help alleviate some of the stress and confusion associated with the condition. Here is a brief overview of what every new parent needs to know:
Most healthy babies experience unpredictable crying bouts or periods of fussy behavior throughout normal development. Colic, however, is the persistent and unexplained crying in healthy babies age 2 weeks to 5 months, and is diagnosed by the rule of three: healthy babies that cry more than three hours a day, three days a week and for more than three weeks have the condition.
Anecdotally, colic is described as frequent periods of high-pitched, intense crying. During these episodes, babies are inconsolable and appear extremely uncomfortable. They are often flushed, have clenched fists, arched backs or tense muscles during their crying spells.
In addition, baby's crying is often predictable and tends to occur at the same time every day. It may last several minutes to several hours and tends to start suddenly and for no specific reason. Symptoms generally begin a few weeks after birth and improve by age 3-5 months.
What are the possible causes of colic?
While the exact causes of colic remain unclear, many doctors today acknowledge that colic is accompanied by physical pain in the baby's gut or abdominal area. Experts agree that there are several contributing factors that, either by themselves or together, may contribute to the condition, including:

An immature digestive system. Muscles that support digestion may not yet be fully developed. Newborns also lack bacterial flora (i.e. probiotics) that develop over time to help aid digestion. These factors may explain why babies outgrow colic within a few months
Acid reflux. The backward flow of stomach contents into the esophagus causes spitting up and physical discomfort
Trapped air or gas in the intestinal track. Infants can swallow air while feeding, causing gas and bloating in the abdominal area
Allergies or food sensitivities. If breastfeeding, babies can be allergic or sensitive to certain foods consumed by the mother. If formula feeding, babies may have an intolerance or sensitivity to certain proteins or lactose
Babies with colic symptoms should be examined by a pediatrician to rule out other medical conditions for their inconsolable crying or discomfort. Once colic is diagnosed, the doctor can suggest strategies to help soothe baby and alleviate some discomfort, such as:
Changing baby's feeding routine, switching from breast milk to formula, or switching the type of formula baby is fed
Sensory stimulation such as swaddling, "swooshing", or infant massage
Medicinal supplements such as anti-reflux medication, herbal teas or probiotics (Remember: always consult a pediatrician before giving baby medicinal supplements or medicine, including over-the-counter or herbal products.)
Switching to vented bottles that regulate air pressure and reduce baby's intake of air bubbles. Try the MAM Anti-Colic Bottle, which has shown to be helpful in reducing colic symptoms in fussy babies. The bottle's vented base regulates the pressure balance of baby's milk, allowing it to flow evenly without bubbles.
Thankfully, colic is a temporary condition that disappears on its own, usually by the age of 5 months. Julia encourages parents to keep this in mind when feeling overwhelmed by baby's symptoms. "It's hard to be patient and trust that this will eventually pass. As unbelievable as it may seem, your baby won't cry forever," she said.
*All names have been changed for privacy protection.
About MAM:
Our mission is to combine the best in technological innovation, medically sound function and contemporary design to help give babies the best start in life. Founded in Vienna, Austria in 1976, MAM is a leader in providing families with innovative baby care products essential for a child's early years. MAM is sold in over 30 countries and five continents. For more information about MAM products, please visit http://www.mambaby.com.
# # #