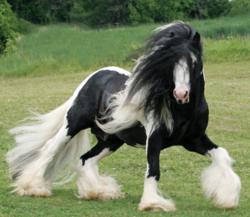 "Dynamite makes all-natural food and vitamin supplements for horses, dogs, cats and virtually all living creatures."
Meridian, Idaho (PRWEB) January 31, 2012
Photos of a dozen distributors for Dynamite Specialty Products, maker of all-natural food and vitamin supplements for horses, dogs, cats and virtually all living things, are included in the 2012 catalog.
Approximately 450 photos from Dynamite's more than 8,000 distributors and customers in the United States and Canada were entered in the company's photo contest for the catalog, which describes Dynamite's food and nutritional supplements for all species, as well as its wound care line, emission-reducing engine additive and fertilizers.
The cover features a gypsy vanner mare, named Lake Ridge Cherakee Princess, owned by Dynamite distributor Laura Robideau of New Germany, Minn.
Other features include Dynamite customer Lee Ann Rust, who started competing in professional barrel racing with her horse Harley at age 53 and was named 2011 Women's Professional Rodeo Association Rookie of the Year; Nancy Parkison of Puyallup, Wash., whose two horses have won nine titles in the past four years; Kim Willis of Chesapeake, Va., whose search and rescue dog Keno has won approximately 20 titles and certificates and Belinda Kachlein of Tenino, Wash., who raises American alpine dairy goats.
The catalog details the specific diet and nutritional supplements used by selected award-winning horses and dogs. Parkison, for example, uses the horse nutritional supplement TNT, a combination of popular Dynamite products; MSM, a bioavailable form of sulfur that aids in cell regeneration, reduces inflammation and increases joint flexibility; OxE Mega, which includes Vitamin E and Omega-3 fatty acids from chia seeds; and Dyna-Pro horse prebiotic that aids digestion and improves gut health.
Detailed information also is available in the catalog on many of Dynamite's latest products, including Super Premium Dog Food, an all-natural corn-free and wheat-free dog food; DM Plus, the all-new, all-natural daily vitamin and mineral supplement for people; and Vigor, a natural fertilizer that focuses on plant health rather than plant growth.
A family-owned business that has specialized in nutrition for four generations, Dynamite Marketing makes natural food and nutritional supplements for horses, dogs and virtually every member of the animal kingdom. It has long developed food and nutritional supplements for working dogs and prize-winning racehorses across the country. Its specialists can recommend exactly what vitamins, minerals, nutritional supplements and natural feeds best support dogs with arthritis, horses with laminitis, cats whose owners make their own food, and cows with digestive issues.
Dynamite has worked with veterinarians and university researchers to produce specialty foods to correct nutritional deficiencies in animals ranging from Canadian muskoxen to peregrine falcons to zoo exotics.
Throughout its history, Dynamite has always looked at alternatives to animal by-products, antibiotics, chemical preservatives, fumigants, artificial coloring and other additives that have later caused health problems. Its manufacturing processes are so stringently controlled that Dynamite has a separate mill to produce feed for herbivores, such as horses and poultry that are especially sensitive to contamination from meat needed by other species such as dogs and cats. It uses only ingredients made in the United States for better quality control.
Dynamite has manufacturing facilities in Idaho and Iowa. Additional information is available on the Internet at http://www.dynamitemarketing.com or by calling (800) 697-7434.
###