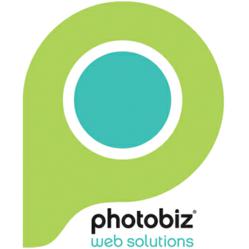 Greensboro, NC (PRWEB) October 16, 2012
Services from PhotoBiz have arrived. In addition to its industry-leading Passionate Support®, PhotoBiz is now using its expert knowledge of the Internet to provide paid services including Web Styling, Search Engine Optimization, and Social Media.
"The new Services from PhotoBiz are an extension of our enthusiastic approach to hands-on customer support," said Chelsea Parker, PhotoBiz Visual Team Artist. "Not only can our customers create an excellent online presence for themselves, now they can also have their site professionally designed by our talented Web Stylists, have social media outlets set up and one-on-one education from our Social Media Specialists, and a personalized strategy from our SEO Experts."
Web Styling Service
Through the Web Styling Service PhotoBiz will plan and present a company's personalized online identity, quickly and easily. This includes a custom background and header image to complement the company's brand, and a color scheme to match the new look. In addition, the PhotoBiz Web Styling Team will upload and organize images into galleries, and insert copy. The result is a beautiful, and user-friendly website built on the PhotoBiz Control Panel.
Search Engine Optimization (SEO) Service
The PhotoBiz SEO Experts are ready to develop personalized strategies using white hat SEO techniques. The SEO Service includes optimizing meta data, reviewing a website's usability, setting up Google Analytics and Webmaster Tools, creating unique goals, filters, and alerts, plus a 45 day follow up to review the site's progress.
Social Media Service
First-class graphics can help take social media outreach, including Facebook and Twitter, to the next level. With this new service, PhotoBiz's Web Stylists design eye-catching Facebook cover photos and Twitter background images, but that's not all. The Social Media Specialists also provide one-on-one education on how to use top social media outlets. Make everything more like-able with PhotoBiz's Social Media Service.
PhotoBiz Services is everything its' customers have grown to love about its' Passionate Support® team and more, because now people can enlist PhotoBiz to do things for them. Companies don't have to know everything about websites – they just need to call 866.463.7620.
For more information about PhotoBiz Services, visit http://www.photobiz.com/services.cfm.
About PhotoBiz
PhotoBiz is a managed web solutions company for photographers, creative professionals, and other businesses powered by Passionate Support®. PhotoBiz specializes in designing and hosting Flash and HTML Portfolio Sites, BizSites, Stores, Blogs, and slideshow tools for online Client Proofing – all expressly created with SEO in mind. Located in Greensboro, NC, PhotoBiz has a team of Passionate Support® agents to partner with and mentor customers to enjoy an easy, professional online experience. For more information about PhotoBiz, please call 866.463.7620, or visit http://www.photobiz.com.