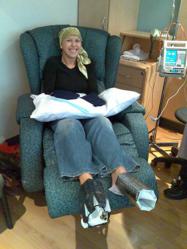 Boca Raton, FL (PRWEB) October 11, 2012
Cancer Treatment and Hair Loss: What to Know, What You Can Do
Hair Club Medical Group® and Expert Stylists Offer Current Information, Advice, and Tips for Addressing the Cosmetic Side Effects of Chemotherapy and Radiation
As conversations turn to cancer prevention, treatment and research during Breast Cancer Awareness Month this October, Hair Club Medical Group® is offering advice and understanding to educate patients on the cosmetic side effects of cancer treatment.
While the threat of hair loss as a result of chemotherapy or radiation is widely understood, many patients facing the reality of treatment are left with a number of questions as to what to expect and how best to cope.
Below, Hair Club Medical Group® transplant physician and dermatologist, Jeff Donovan, M.D., along with expert Hair Club® stylist Donald Arditi, offer background and advice to help those battling cancer better understand and address the cosmetic side effects.
WHAT YOU SHOULD KNOW:
Do all cancer treatments cause hair loss? Why? As most people know, many traditional cancer treatments, namely chemotherapy and radiation therapy, have the potential to cause hair loss. That's because chemotherapy targets actively growing cells in the body – cancer cells and other cells, including hair follicles.
How many patients experience hair loss as a result? Overall, about 65 percent of patients receiving chemotherapy experience some level of hair loss. While not all chemotherapy drugs cause hair loss, the likelihood is greater among patients receiving two or more drugs versus those receiving only a single drug. It all depends on the type of treatment and amount of chemotherapy or radiation used.
Is hair loss due to cancer treatment always temporary or is it sometimes permanent? In rare situations, patients may not fully regain the same hair density as they had before cancer treatment. This phenomenon is known as permanent chemotherapy induced alopecia (PCIA). Certain drugs and treatments are more likely to cause PCIA than others. For instance, radiation to the brain has been known to sometimes cause permanent loss.
Does the hair grow back differently? The new, re-growing hair may be a different texture and may even be a different color (especially grey). It's not uncommon for the hair to be curlier than it was before chemotherapy. Most of the time however, the hair returns to its normal texture and color.
WHAT YOU CAN DO:
Is there anything one can do to prevent or counter the hair loss? Cryotherapy or scalp cooling can sometimes be used to reduce the chance of developing hair loss. Scalp cooling is not used for all patients undergoing chemotherapy, but rather for patients receiving specific medications or fighting specific cancers. Topical minoxidil can also reduce the total number of weeks that a patient will experience hair loss after chemotherapy and will speed up the rate of hair growth following cancer therapies.
Aside from medical treatments, what are some easy ways to disguise and care for thinning hair? Be gentle. Dry your hair with your hands and fingers, minimize using high heat settings on the blow-dryer, and avoid using a brush when blow-drying.
What products are best for thinning hair? Minimize the use of waxes, gels, creams and pastes. A lot of these products will weigh your hair down, making it oily and revealing thin areas. A light styling product that creates volume in the hair, like a volumizing mousse, is best.
What should stylists know? First, inform any stylists ahead of time about your health situation and treatment, so they can be proactive and start handling your hair with precautionary measures as early as possible. Avoid chemical services, such as permanent color treatments, perms, and straighteners, which can lead to premature breakage and hair loss.
For further information or to connect with a restoration specialist, please visit hairclub.com.
ABOUT HAIR CLUB®:
Founded in 1976 by Sy Sperling, Hair Club is the leader in hair restoration and the largest company in the industry offering all proven hair loss solutions. Hair Club has granted more than 500,000 men, women, and children an experience that truly changed their lives. Today, Hair Club has 100 locations throughout the United States, Canada, and Puerto Rico and is a wholly-owned subsidiary of Minneapolis-based Regis Corp, the largest hair salon operator in the world. Regis brands include: Jean-Louis David, Vidal Sassoon, Supercuts, Mastercuts and many more.
ABOUT HAIR CLUB MEDICAL GROUP®:
Hair Club Medical Group® is a network of hair transplant physicians throughout more than 25 states and provinces whose practices are managed by Hair Club®. Only an experienced physician can determine if a patient is a candidate for a hair transplant procedure.
*The information provided is for informational purposes only and is not intended to be a substitute for professional medical advice, diagnosis or treatment. Always seek the advice of your physician.