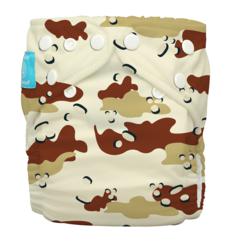 "Military parents make the biggest sacrifices for their families and we're privileged to honor our service families across the world by creating a line of military print hybrid cloth diapers.
Malibu, CA (PRWEB) October 11, 2012
Charlie Banana® will honor military families everywhere by introducing its fashion-focused "Boot Camp" military collection of cloth hybrid diapers. The Chocolate Chip, Snow and Woodlands cloth diaper prints are influenced by independent retailer and military family Frank Laguna and wife Candace -- owner's of Mami's & Papi's. These styles will be modeled on the Charlie Banana® Blue Carpet at ABC Kids Expo on Sunday, Oct. 14.
"Military-inspired fashion is fun, it makes a statement and is timely during this American election year," said Gaëlle Wizenberg, CEO of Winc Design Inc. "Military parents make some of the biggest sacrifices for their families and we're privileged to honor our service families across the world by creating a line of military print hybrid cloth diapers. We're especially thankful for the Laguna family's insight help to launch this line."
Husband and wife team affectionately known as Mami & Papi influenced the honorary Boot Camp line. The active duty military family owns an independent Texas-based natural parenting website and brick and mortar retail store, based in the heart of Fort Hood area. Mami's & Papi's offers parenting resources and support to the military and civilian community, and online customer family. The Laguna's passion for military families was the catalyst to work one-on-one with Charlie Banana® to develop this diaper collection.
"The diaper design names – Chocolate Chip, Snow and Woodlands – add a little bit of fun and a lot of history into the prints from Charlie Banana's Boot Camp Collection," said Laguna. "Over the years the cloth diaper industry has changed so much and it's nice to see amazingly loved military patterns from years past coming to life in a new way. As a military spouse, camouflage is a daily part of our family's wardrobe – even the kids want their own camo collections. But camouflage isn't just for military families; it's for everyone and can be paired with any t-shirt. Camo never goes out of style and is great for boys and girls!"
To celebrate the launch of the Boot Camp collection, Charlie Banana® is partnering with top military bloggers to test and debut the new diapers and in addition, providing select military families a complete set of Boot Camp diapers and accessories.
"Military mom bloggers will showcase our Boot Camp hybrid diapers paired with bright t-shirts, contrasting organic baby leg warmers and even paired with adorable baby sweaters," said Wizenberg. "Our blogging partners and cloth diapering parents set the stage for cloth diapering families and we're excited to see how they can show of these prints."
The Boot Camp collection will be available for retailers at the end of 2012 and U.S. customers in January 2013.
"Charlie Banana is bringing cloth diapers into the homes of so many families and at the same time, supporting small businesses," said Laguna. "With new challenges facing the economy as a whole, loyalty means everything. Charlie Banana has recently taken huge steps in assuring their small businesses retailers can thrive and survive. With new retailer guidelines you will find Charlie Banana priced the same in every store and online. No camouflaged deals hiding in the brush!"
Charlie Banana®, based in Hong Kong, continues to lead the eco-friendly lifestyle industry with its hybrid diapers and will evolve its collection by introducing biodegradable inserts and bamboo disposable liners at the ABC Kids Expo.
"Quality materials, a great warranty, and fantastic customer service is everything a family could want. Adorable prints are the added bonus and these prints are totally adorable," said Laguna.
Charlie Banana® also introduced its Holly Brown and Maple Leaf Diaper prints and its Eco-Safe Laundry Soap in 2012. The full Charlie Banana® collection includes 2-in-1 Eco Diapering System, Organic Wipes, 2-in-1 Swim Diaper & Training Pants, Biodegradable Disposable Liners, Tote Bags, Diaper Laundry Bags, Change Pads, Mattress Pads, Baby Training Pants, Organic Cotton Underwear, Organic Cotton Baby Leg Warmers, Reusable Feminine Pads and Reusable Nursing Pads.
Charlie Banana® proudly supports Operation Smile Inc., a worldwide medical charity that changes the lives of children suffering from cleft lip, cleft palate and other facial deformities. One surgery costs as little as $240 and Charlie Banana® customers will be contributing to changing a child's life forever.
Charlie Banana® products are also available around the world by visiting our World Wide Retailer List. Charlie Banana® works diligently to make products available to retailers that can provide excellent troubleshooting and amazing knowledge on using the hybrid cloth diaper system. Local retailer teams have loyal and specialized cloth diaper educators for the entire cloth diaper experience when you buy Charlie Banana® diapers at the local store. It's "Basic Training or Boot Camp"! With support and dedicated service – anyone can be a Charlie Banana® cloth diaper boot camp graduate!
About Charlie Banana®
Established in 2010, Charlie Banana® is the international luxury brand of cloth diapers and organic baby products. Charlie Banana® was created out of love for eco friendliness, quality and design by cloth diaper industry experts with more than 12 years combined experience. The Winc Design Ltd family and children are the inspiration behind Charlie Banana® – with the desire to design products that individuals feel confident to use on their babies and themselves. For more information, contact http://www.charliebanana.com.
About Winc Design LTD.
Based in Hong Kong, Winc Design Limited is a distributor and manufacturer of cloth diaper products. Being based in Hong Kong reduces shipping cost for customers and reduces the company's carbon footprint by having manufacturing at the door. Winc Design Ltd. has been nominated as the "Earth Champion" for waste reduction in years past. Winc Design actively promotes waste reduction on a daily basis and all of products are made with care.
###