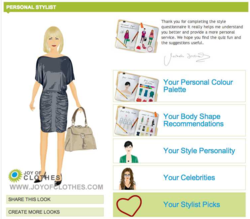 'Everyone is different and has their own style DNA. You cannot hope to look your best by copying someone else. Stylish dressing and savvy shopping takes strategy' Michaela Jedinak , personal stylist and founder Joy of Clothes.
(PRWEB UK) 16 October 2012
New fashion Style Quiz from Joy of Clothes asks women sixteen questions about their style personality, preferences , celebrities and body features. Joy of Clothes then prepares a personal style file including advice on what to wear for their body shape, which colours make them look and feel younger, which celebrities share their body shape and personal colouring and finally personal stylist picks from top retailers including Net-a-Porter, Top Shop and Mango. These stylist picks are updated every week so women never need to shop alone.
Not everyone has the time or money to have a personal stylist but now everyone can access personal style advice from personal stylist Michaela Jedinak.
The personal style file includes an avatar to represent their body shape and colouring . Joy of Clothes unique personal styling tool Style Me can then be used to virtually try on the style recommendations and then buy the look.The visual search engine discovers clothes in the recommended colour palette in a way traditional text search cannot.
Follow us on http://www.facebook.com/joyofclothes http://www.twitter.com/joyofclothes, Google + and Pinterest.
About Joy of Clothes:
Joy of Clothes. Discover and buy the clothes that flatter your body shape, eye, hair and skin colour. Stylist advice on how to look your best. Create your model to see what to wear for your body shape. Buy women's clothes from all the top shops and designers. Joy of Clothes was founded by Michaela Jedinak and David Lethbridge.
Michaela Jedinak has a unique range of experience from the fashion, media and design industry in London, New York, Milan and Prague. As MD of Cosmopolitan Prague, she developed her passion for colour and style, before going on to set up her highly successful colour and style consultancy.
Michaela Jedinak
michaela (at) joyofclothes (dot) com
Mobile: 0044 780 313 9755
David Lethbridge has a consumer marketing background followed by over 20 years new media experience. David was co-founder and CEO Confetti , one of the first wave of consumer internet businesses in the UK. Developed Confetti into a profitable multi-channel business including stores, catalogues and Confetti branded products and books.
David Lethbridge
david (at) joyofclothes (dot) com
Mobile: 0044 795 736 2133