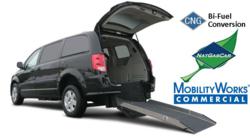 This innovative van solves the main issue companies have had with dedicated CNG vehicles, which is what to do when low on fuel and far from a CNG station. Now they can stop at any station, and the fuel range of over 600 miles is unbeatable
Akron, Ohio (PRWEB) October 12, 2012
Businesses looking to add "green" vehicles to their fleet with wheelchair accessibility now have a new, yet familiar option. MobilityWorks Commercial, the nation's largest manufacturer of commercial wheelchair accessible vehicles, is partnering with NatGasCar, LLC, a natural gas vehicle converter, to create the nation's first Compressed Natural Gas (CNG) Bi-Fuel rear-entry Wheelchair Minivan.
At this year's Taxi, Limousine & Paratransit Association (TLPA) Annual Conference in Las Vegas from October 27-30, MobilityWorks Commercial will be unveiling this new vehicle, a converted 2013 Dodge Grand Caravan, nicknamed the "Eco-Taxi." The NatGasCar CNG conversion uses a patent pending CNG injection system and ultra-fast processor to meet the stringent EPA emission standards.
The Bi-Fuel conversion means that the van will run on both CNG and unleaded gasoline. The conversion does not change the capacity of the original fuel tank, and adds CNG cylinders, giving the van a driving range in excess of over 600 miles – the most of any current commercial van. The exclusive system allows drivers to seamlessly switch between CNG and gas at any time, even while driving, for maximum efficiency and convenience.
"We have been getting more and more requests for CNG-powered vans over the past year, and very excited to launch this new Bi-Fuel option," says Denny Summers, Vice President at MobilityWorks Commercial. "This innovative van solves the main issue companies have had with dedicated CNG vehicles, which is what to do when low on fuel and far from a CNG station. Now they can stop at any station, and the fuel range of over 600 miles is unbeatable."
MobilityWorks Commercial has been building wheelchair accessible minivans since 2008 for the taxi, nursing home, group home and other non-emergency transport industries. For more information on MobilityWorks' wheelchair accessible Taxis, visit http://www.MobilityWorks.com/taxi or contact Michael Shank, General Manager – Taxi, at 800-769-8267 or mshank(at)mobilityworks(dot)com.
About NatGasCar
NatGasCar LLC is a recognized leader in the alternative fuel industry. Their proprietary system uses a sleek injection device to provide a cost effective and reliable conversion system. The patent-pending process enables NatGasCar to avoid drilling and tapping into the manifold of the vehicle. The systems are designed with "best in class" components to eliminate customer downtown.
About MobilityWorks Commercial
MobilityWorks Commercial is the leading builder of wheelchair accessible vans, minivans, taxis and shuttles in America. MobilityWorks Commercial has pool status with both Ford and Chrysler, and is Ford's largest mobility bailment pool with E-Series and Transit Connect units in stock to provide the fastest lead times in the industry. Every vehicle available is compliant with FMVSS, OEM & ADA standards, including crash testing and seat pull testing. More information can be found at http://www.MobilityWorksCommercial.com, or call Jim Cermak, MobilityWorks Commercial Marketing Specialist at 330-861-1118.