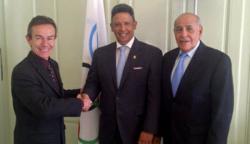 This meeting served to reaffirm the willingness of both institutions to work together for the benefit of the Olympism and sport in Panama, with mutual trust and respect, in line with the principles of the Olympic Charter and the legislation in force
(PRWEB) October 11, 2012
On 9 October 2012, the Panamanian government representative Mr Javier Tejeira, Director General of Pandeportes, IOC member Mr Melitón Sánchez, Mr Pere Miró, IOC Director of NOC Relations, and Mr Jérôme Poivey, Head of Institutional Relations in the NOC Relations Department, met in Lausanne to work on finding a satisfactory solution to the various problems that have been affecting the Olympic Movement in Panama for several years.
This meeting served to reaffirm the willingness of both institutions to work together for the benefit of the Olympism and sport in Panama, with mutual trust and respect, in line with the principles of the Olympic Charter and the legislation in force, as expressed by the President of the Republic of Panama, Mr Martinelli, and the IOC President, Dr Jacques Rogge, at a meeting held during the Olympic Games in London.
During this meeting in Lausanne, the following agreements were reached:

The situation of each of Olympic sports federation will be verified closely with each International Federation (IF) concerned. If the situation requires, a proper investigation process will take place and the IF concerned will make a final decision which will be subsequently followed by the relevant government entities and the Olympic Movement in Panama. The ultimate objective will be to ensure that there is a single national federation per sport in Panama for the benefit of the athletes and to avoid any confusion with regard to their participation at national or international level. This unique national federation will be the one duly recognised by/affiliated to the corresponding IF, and will at the same time be recognised by/affiliated to the Olympic Movement in Panama and the government authorities.
Elections within the Panama Olympic Committee will take place in December 2012 under the IOC's supervision (which is the IOC's right and duty, since the Panama Olympic Committee is an entity recognised by the IOC) with full democracy, transparency and respect of the Olympic Charter and in accordance with the IOC President's letter to the Panama Olympic Committee on 13 March 2012 requesting it to make all necessary efforts for the reunification of the Olympic Movement in Panama, in particular by including all Olympic sports federations duly affiliated to their respective International Federations.
For more information, please contact the IOC Media Relations Team.
###