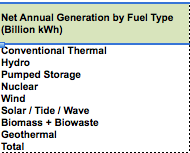 Energy statistics on over 210 countries available in the NRG Expert Almanac
(PRWEB UK) 11 October 2012
Why is Meeting Energy Demand so Important?
Since the cost of energy has become a significant factor in the performance of an economy, the management of energy resources has become critical to the success of many countries.
Interesting Energy Statistics and Data
Rosie Seldon, from NRG Expert, the energy intelligence company, reviews the Global Energy Industry to reveal some interesting energy statistics:

53% - global energy demands to grow by 2050
9 billion – this is the expected size of the population by 2040. Energy supply must increase to meet this population growth*
Wind power - is now the fastest-growing renewable energy source — 40.5 gigawatts of new wind power was brought on line in 2011, bringing the global total capacity up to 238 GW**
80% of global energy demand today is supplied by coal, oil and gas - the 'fossil fuels'***
$6.5bn of venture capital and private equity capital has been invested in energy efficiency, since 2007. ****
The US - has regained top spot from China as the biggest investor in clean energy in 2011, according to global rankings.
400% - the percentage by which Western countries' electricity prices will soar in the next 30 years if electricity grids do not become smart grids 4 *****
Energy statistics on over 210 countries - available in the NRG Expert Almanac
Current Trends in the Energy Industry
NRG Expert's research reveals that as energy demand will outweigh current supply in the future, there is a need to:
minimise wastage
reduce harmful emissions
integrate renewable energy sources into the energy mix
remove energy regulation to increase supply
increase privatization to meet growing energy demands
Many energy companies are reviewing the global market situation to work out how to take advantage of the opportunities for growth. As energy data is often difficult to obtain, NRG Expert have pulled together a vast wealth of energy statistics to create a product called the NRG Expert Almanac. They have collected millions of lines of energy data from 100s of trusted sources . NRG Expert can provide vital energy statistics for each country and produce customised databases, an invaluable resource for those looking to capitalize on the growth in energy demand.
For more energy statistics visit:
http://www.nrgexpert.com/industry-intelligence/nrg-expert-almanac/
Or contact: Edgar van der Meer
NRG Expert +1 (416) 840-5847
+44 (0)20 8432 3059
Background information
NRG Expert is a London and Toronto based energy intelligence and market research publisher which researches global energy demand. NRG Expert provides energy statistics and data, and up to date information and analysis on worldwide energy markets, including electricity, natural gas, coal, nuclear, renewable energy, water and waste, and all elements of energy infrastructure.
Sources for energy statistics: NRG Expert, *International Energy Agency and Exxonmobil 2010. **Wind power statistics from renewable energy world.com; ***Energy statistics from BBC global energy guide, ****Investment statistics from Bloomberg New Energy Finance, Smart grid statistics from Global Smart Grid Federation