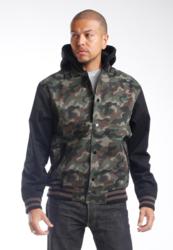 This resurgence in camouflage-inspired clothing is a reflection of the current trends in pop culture.
Moonachie, NJ (PRWEB) October 10, 2012
Camo is making a comeback in modern fashion and men's Streetwear online marketplace Spurbe is seizing the initiative to capitalize on this trend by unveiling its new camouflage-inspired line of products in its online store.
Spurbe founder Eric Cha says, "This resurgence in camouflage-inspired clothing is a reflection of the current trends in pop culture. And when you really get down to it, it makes a lot of sense. Camouflage works very well as an accessorizing color, and that is exactly what we're looking for here at Spurbe."
This philosophy is the driving principle behind Spurbe's newest line of camouflage-inspired line of products. The camouflage patterns found in many of these new apparels are used as accent colors designed to draw attention to the piece of clothing in question.
Mr. Cha used one of the Springfield Classic camouflage varsity jackets as a live demo of how this process works.
"So what do you see when you first look at this jacket? The four-color camouflage pattern on the torso." Mr. Cha points out. "But a jacket's more than just the torso. The sleeves use the same black color as the camo while the cuffs retain the camo feel by using stripes of black and tan that mirrors the torso pattern. You move down to the bottom and the stripes setup is interrupted by a square patch of camo reminiscent of a belt-buckle. The jacket's detachable hood offers flexible style options in multiple instances. The camo grabs your attention and the rest of the jacket's clean design holds your eyes for a little while longer than normal."
In contrast with the camo jackets, Spurbe's line of camo pants does not use camo as accent colors but rather as the mainstay of the apparel.
This decision, according to Mr. Cha, was made because "it's a lot more difficult to accessorize pants for guys. Most guys don't want there to be any accent colors to the pants they're wearing. But doing it via camo makes it slightly more palatable to the general population."
This is most clearly seen in Spurbe's duck camo slim cargo pants, which features splotches of red amidst the green and dark tan patches running along the length of the pants. Pairing other red-colored apparels with the duck camo slim cargo pants allows the pants to become an accessory feature itself, exactly as Mr. Cha intends it.
Spurbe's new camouflage inspired fashion line can be found at their online store here.