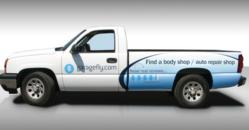 "We've truly turned our fleet into moving billboards, and GarageFly is already getting positive feedback on the 12 fleet vehicles 1st Impressions wrapped for us,"
Phoenix, AZ (PRWEB) October 23, 2012
PHOENIX, Arizona—October 10, 2012—GarageFly.com, an online resource that helps Arizona consumers make automotive service and auto body repair decisions, has selected Phoenix-based vehicle wrapping business, 1st Impressions Truck Lettering, to provide vehicle wraps on their fleet of pickup trucks.
The move was made to optimize GarageFly's vehicle advertising. GarageFly has added vehicle wraps to enhance their existing marketing efforts, which includes an extensive online and radio advertising campaign.
"We're very excited about our partnership with 1st Impressions," GarageFly Director of Marketing Jan James said. "We selected 1st Impressions because of their quality online reviews, their years of experience working with large fleets both on a local and national level, and the fact that they're the only USAG and 3M Certified vehicle wrapping company in Phoenix."
1st Impressions design team worked closely with GarageFly's marketing department to achieve the desired professional result. "We've truly turned our fleet into moving billboards, and GarageFly is already getting positive feedback on the 12 fleet vehicles 1st Impressions wrapped for us," James said. "We're very happy with the quality of work and design, and we have already seen a positive return on our investment. You can't ask for more from your advertising."
About 1st Impressions Truck Lettering
Founded in 1994, 1st Impressions Truck Lettering provides car wraps, truck wraps and nearly any vehicle wrap possible including vans, buses, even tractor trailer with a very high focus on detail and quality workmanship. 1st Impressions is the only USAG and 3M Certified Vehicle Wrap company in Phoenix and one of a limited number in the entire state. They are an A+ rate BBB company. 1st Impressions Truck Lettering offers free pickup and delivery service, onsite installation, expedited fleet service, a convenient location and a team of experts dedicated to service needs.
About Vehicle Wraps
Vehicle wraps are vinyl adhesives with high resolution digital graphics printed on them. This over-sized "sticker" is placed covering the exterior of the vehicle. The process leaves the exterior unharmed and provides an extra layer of protection for a car's paint. This is a quick and relatively easy way to change the design and look of a vehicle or fleet of vehicles to better work to a business' advantage. Compared to old methods of single color vinyl application, or painting the exterior of a vehicle, a wrap can be applied to the whole car or a section of a vehicle to fit a projects budget and a companies' design to the make of your automobile. 1st Impressions Truck Lettering uses the highest quality 3M vehicle wrap materials. This product is backed by a manufacturer warranty and can last 3-5 years.
1st Impressions Truck Lettering
345 North 15th Avenue
Phoenix, AZ 85007
Phone: (602) 253-3332
Fax: (602) 253-4860
Email: info(at)1stImpressions(dot)com
Website: http://www.1stimpressions.com
Facebook: http://www.facebook.com/1stImpressionsTruckLettering
Hours of Operation
Monday – Friday: 8:00 AM – 5:00 PM