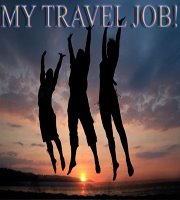 My Travel Job wants to hire and fulfill 5,000 travel jobs positions during the 2013 fiscal year
(PRWEB) October 11, 2012
My Travel Job has gained 300 applicants over the past few weeks and is looking to hire and fulfill 5,000 travel jobs positions. Their emphasis will focus on hiring veterans (returning or active reserves) because they value the service provided for our country and would like to utilize skills learned in the military.
The travel jobs positions available will be in sales and leadership roles. Keep in mind; travel jobs are open to hiring anyone. Travel Jobs are a great way to build self confidence and acquire skills that will last a lifetime.
Millions of jobs have disappeared from the marketplace and the workforce is getting older as young adults tend to stay in school. Americans hold on to the notion that a college degree is needed to get a job. The main problem is that America has left behind its farming and manufacturing jobs and instead emphasizing a proper education by sending young adults to school instead of creating direct production.
Travel jobs are the original entry level position. They will train, Whether there is previous experience or not. Start building your skills from day one with Travel jobs.
My Travel Job launched their website mytraveljob.com and is ready to hire today.
To find out more: click here
Travel Jobs by mytraveljob hires individuals exclusively in association with Pro-Tek Chemical.
Pro-Tek Chemical was created over 30 years ago for the lumber industry to help remove pitch and sap from saws and clothing. . Located in beautiful Glenn's Ferry, Idaho, we have since upgraded to a green formula and now provide over 10 environmentally friendly products and service the continental USA primarily through direct personal sales and the internet. Their mission is to have environmentally safe products delivered to homeowners and small business' that will eventually replace all current retail products sold in stores, allowing consumers to use only one product for all their cleaning needs and reducing the overall carbon footprint. Since 1985 two million people have purchased this product after in-home demonstrations, the demonstration speaks for itself.
Pro-Tek Chemical travel jobs provide all training, transportation, lodging, excellent earnings package, cash bonuses, and the opportunity for advancement. With a sales staff of over 200 independent contractors, we relocate our travel jobs sales crews each month throughout the continental USA, year round, bringing our products directly into the hands of the consumer.
Pro-Tek Office hours are Monday to Friday from 8:30 AM 5:00 PM MST.