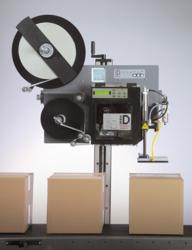 Fort Worth, TX (PRWEB) October 10, 2012
ID Technology, a leading manufacturer of product identification equipment, will be showing the IDT Model 252 Label Printer Applicator, the newest addition to their extensive line of Label Printer Applicators at Pack Expo 2012 booth #N-4021. The IDT Model 252 is the latest evolution of the world's highest selling Label Printer Applicator.
The next generation IDT Model 252 Label Printer Applicator features the same modular design and robust construction companies have come to expect from the IDT Model 250, however it goes one step further with the integration of ID Technology's revolutionary Centerline Modularity design philosophy. The goal of Centerline Modularity is to create an easily identifiable reference point for default calibration in product identification machinery. This is accomplished through a proprietary process that identifies and catalogues all possible points of adjustment in a machine, and then designing to eliminate as many of those adjustment points as possible. The result is increased uptime and lower operating costs for machinery using this design.
The IDT Model 252 Label Printer Applicator features a new touch screen User Interface for easier programing, a redesigned rewind motor module that is hot swappable, a revolutionary plasma coated air assist tube that eliminates label sticking, and an optional service position Tamp Module. Additionally, the IDT Model 252 Printer Applicator can be outfitted with the same application modules as the Model 250 eliminating the need for additional training of plant personnel, as well as the ability to swap out application modules among machines.
In addition to the base Model 252, two other models in the 252 range will be on display, the Model 252N and Model 252E. The 252N is designed for production floors with limited space that cannot accommodate a standard Model 252 Corner Wrap System. This modified Model 252 requires less aisle space and is comprised of standard "off-the-shelf" IDT components mounted on a custom face plate.
The new design results in a space saving, compact footprint (16" deep by 38" long, measuring along the length of the conveyor). This configuration utilizes IDT Model 252 modules and a pivoting vacuum grid with attached follow along roller.
Even with the customized narrow aisle design, operators can easily access the electronics and other components because the entire system, like the standard system, is a truly modular design. All applicator modules can be replaced within moments by removing two or four bolts, installing a new module, and getting back in to production.
The Model 252E is a specialized Model 252 Label Printer Applicator for use in harsh environments. With this exclusive design it is no longer necessary to use a separate enclosure to protect the applicator, since the enclosure and applicator are one. All machine components and modules are mounted on a unique faceplate and the stainless steel enclosure is wrapped around the faceplate.
The enclosure is equipped with a removable door for label application operations and both the front and back panels are hinged for easy access to the print engine, operator controls and for media loading.
About ID Technology
ID Technology, a division of Pro Mach, is a manufacturer and integrator of labeling, coding and marking systems, as well as, peripheral equipment, supplies and service. For more information or to locate one of the ID Technology nationwide sales and service centers, call 888.438.3242 or visit our website at http://www.idtechnology.com.
About Pro Mach
Pro Mach, Cincinnati, Ohio, is a leading provider of integrated packaging products and solutions for food, beverage, household goods, pharmaceutical, and other diverse consumer and industrial companies. Through three business units and related divisions, Pro Mach provides equipment, training, installation, and parts in primary packaging, end-of-line packaging, and identification and tracking. http://www.ProMachInc.com