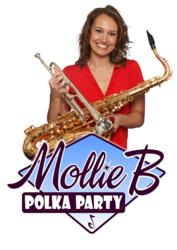 Omaha, NE (PRWEB) October 10, 2012
Rural Media Group, Inc. (RFD-TV/RURAL TV) is thrilled to announce the two-year renewal of the weekly polka music program Mollie B Polka Party, hosted by US Polka Association's "Female Vocalist of the Year," Mollie Busta. Live polka music festivals from around the country that will air on RFD-TV and RURAL TV are currently being scheduled for the 2013 national tour.
Mollie Busta, popular performer from the Jim Busta Band and Squeezebox, is host of the weekly RFD-TV Polka show, the Mollie B Polka Party. The one-hour program features the nation's top polka bands and a wide-variety of ethnic styles produced on location at music venues around the country. During the program Mollie B helps introduce each band on camera and interacts extensively with the audience. Along with Ted Lange, Mollie B serves as Creative Director in expanding and improving RFD-TV's prime-time polka programming.
The "Mollie B Christmas Special," taking place at RFD-TV The Theatre in Branson, MO November 11 &12, previously won an award for best variety recording and is anticipated to be another huge success this year. Playing at RFD-TV The Theatre off Branson's historic 76 strip, Mollie Busta will entertain audiences for about two hours to celebrate the Christmas season with music by Mollie B and other polka musicians including Alex Meixner, Ted Lange, Fred Ziwich, Tuba Dan and more. Fans can experience a production that will air several times in December on RFD-TV and RURAL TV as the "Mollie B Christmas Special."
"This has been a tremendous partnership," said Patrick Gottsch, Founder & President of Rural Media Group, Inc. "Mollie B has taken polka music to the next level on RFD-TV, and we look forward to continued success hosting polka festivals around the country which will generate hundreds of new shows."
"I am looking forward to recording more bands, meeting more people, and airing more great shows on RFD-TV and Rural TV," stated Mollie Busta. "We had a great first year and are determined to do our best to even make it better in the future."
###
About Rural Media Group, Inc.:
Launched in December 2000, RFD-TV is the nation's first 24-hour television network dedicated to servicing the needs and interests of rural America with programming focused on agriculture, equine and rural lifestyle, along with traditional country music and entertainment. Sister network, RURAL TV, launched in February 2012 and is a multimedia agribusiness and rural lifestyle network featuring primetime news broadcasts focused on agribusiness and rural policy issues; weather; world commodity market updates; extensive event coverage; international trade, farm and horse shows; expanded livestock auctions; equipment and ranch reports; plus independent productions designed to give agricultural professionals and hobbyists information to fit every interest and operation. Currently, the two networks are distributed to more than 55 million homes worldwide by DBS and cable systems including DISH Network, DIRECTV®, Comcast, Verizon FiOS TV, Mediacom, Charter, Optimum, Brighthouse, Suddenlink, Time Warner, Cox, and more than 600 independent rural cable systems. The bi-monthly RFD-TV The Magazine has more 180,000 paid subscribers, and the company operates RFD-TV The Theatre in Branson, Mo. Corporate headquarters are in Omaha, Neb., and production operations are in Nashville, Tenn. For more information, visit http://www.rfdtv.com and http://www.myruraltv.com.
CONTACT: Scout Finch - 870-613-3929, Scout(at)rfdtv(dot)com