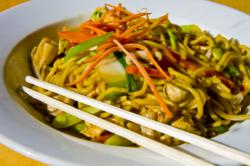 Clinical trial results indicated an average weight loss of 5.5 lbs. using the glucomannan over the eight weeks without changing diet or exercise routines.
Sarasota, FL (PRWEB) October 11, 2012
According to their statements in the white paper on glucomannan released on Wednesday, Dr. James Barber and registered nurse Pamela Smith, agree glucomannan is an excellent source of soluble fiber with many health benefits.
The clinical studies reviewed by Dr. Barber, show that when glucomannan is utilized correctly as part of a healthy diet, it is an effective option for managing blood sugar and cholesterol levels.
While glucomannan is quickly gaining traction in the US as an ingredient in many appetite suppressant and diabetes management supplements, many Asian cultures have used glucomannan noodles in their cuisines for years because of glucomannan's unique properties.
Glucomannan noodles, also known as shirataki noodles have risen to popularity in weight loss communities because they are zero carb and are water soluble, helping users to feel full and stay full longer. While shirataki noodles offer many benefits their broad market appeal has been limited due to their lack of flavor and many consumer have turned to supplementing their diet with glucomannan in capsule or tablet format.
After being featured as an appetite suppressant on TV, the number of consumers taking glucomannan supplements is on the rise. While more human trials need to be conducted on glucomannan, the white paper on released by Elite Health Blends states that "weight loss research looks promising."
As the buzz around glucomannan continues to build and more consumers are debating about adding glucomannan to their diet, registered nurse, Pamela Smith says, "As a nurse of 30 years, I believe glucomannan is an excellent source of fiber, and used when in either dietary or supplement forms, it can help patients reach their daily recommended values to support overall health."
The report was commissioned by Elite Health Blends to help educate consumers about the ingredients in their flagship product known as Elite Thin. Elite Thin is scheduled for release in mid October and features glucomannan as one of the key ingredients in its unique formula known as Fiberxin™. The Elite Thin product is designed to give users the elite edge to help them achieve their weight loss and health goals.