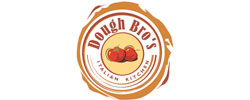 Dallas, TX (PRWEB) October 12, 2012
Dough Bros Italian kitchen, a rustic Italian restaurant in Dallas, Texas, has announced a brand-new contest for customers. The "Bro Challenge" is designed to challenge two individuals, hopefully blood brothers, to chow down on pizza, cookies and beer in an effort to win a prize.
According to Dough Bros' Phillip Schultz, contest participants will have one hour to consume a full sheet pizza, a cookie pizza and a pitcher of beer. If they can complete the task, they win free happy hour for life as well as being immortalized on the restaurant's Wall of Fame. If they fail, their names are added to the Wall of Shame, and they are required to shell out $60 for their meal.
The contest is similar to others that have taken place around the country. Such contests are a good way to bring new customers in the door while keeping current customers coming back time and again. Dough Bro's is a family business run by two brothers who are also graduates of Ohio State University's hospitality management program. Their take on humble Italian food is encapsulated in their fresh, five-minute pizza, traditional Italian calzones and hand-cut, vinegar soaked fries.
"Dough Bro's has amazing build-your-own pizzas, salads and calzones with unique combinations and great taste," says Schultz. "We are the home of the five-minute, fresh-made pizza built right in front of you."
In addition to their "Bro Challenge," the restaurant also has other promotions including their Facebook word of the day. Fans who use the word can get day-long happy hour pricing rather than being limited to the normal 4:00 p.m. to 7:00 p.m. time slot. For more information visit the Dough Bro's website at http://www.doughbrodallas.com.
About the company:
Dough Bro's has amazing build-your-own pizzas, salads and calzone with unique combination and great taste. They are the home of the five minute fresh made pizza built right in front of of their customers.
Dough Bro's started with an idea and a city apartment. With both brothers graduating from the Ohio State University in Hospitality Management creating the foundation for our genuine humble take on Italian food and pizza delivery. The concept has grown into the original 5 minute fresh made pizza and calzone italian kitchen with a loyal following and friendly environment. For more information, please visit their website at http://doughbrodallas.com.