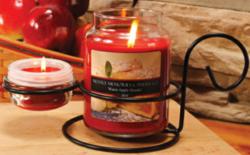 Mostly Memories Candles, with their soy-blend waxes, lead-free wicks and the varieties of aromas are 'Gifts that make scents'
Elma, New York (PRWEB) October 11, 2012
The Made In America Store is setting up for the colder months and adjusting their inventory for the holiday season. Mostly Memories has presented some new scents to the all US made products store and with their innovative 2-in-1 design and catalog of different scents, there is sure to be a candle for everyone.
Looking to make this holiday season American made? The Made In America Store has the products and gift ideas to please everyone. Click here to start your shopping list today at the Made In America Store!
Mostly Memories has added new scents that appeal to the holiday season with their innovative 2-in-1 glass container in both their 20 ounce candles and 28 ounce candles. New scents from Maybe Memories include Spiced Berry Spruce, Christmas Cinnamon, Caramel Pecan, Comforts of Home, Hazelnut Cappuccino, Apple Gingerbread, Pumpkin Pie, Cinnamon Danish, Peppermint Bark and Holiday Cheer!
Add the finishing touch to your Thanksgiving Dinner table with a Mostly Memories Pumpkin Pie Lid Light!
Mostly Memories also has an array of other candle products including Votive Candles and Cinnamon Bun Votive Candles.
The soy based candles from Mostly Memories come with an additional candle in the glass lid of the container. The double candles, or "Lid Lights," can come in over 40 different scents and consistently change with the seasons. Consumers can enjoy scents ranging from flowers of "Cherry Blossoms" to sweeter, cookie scent like "Grandma's Kitchen."The hand-made candle company started back in 1993, and actually started by manufacturing scented greeting cards in their attic. The company is located in Springfield, Missouri, and now has a product line spanning one-of-a-kind candles and bath & body products.
Today, Mostly Memories is owned and operated by David Aquirre. David's wife, father, father and mother-in-law continue the tradition of keeping the family business operated by helping with the company. The Made In America Store prides itself on keeping the quality American made products. Currently, the Made In America Store stocks its shelves with products from over 290 privately owned businesses.
Click here to shop for more gift ideas that are 100% US manufactured from the Made In America Store!.
The Mostly Memories facility, that is located in Southwest Missouri, manufactures its candles all hand-made. The candles are made with environmentally safe soy-blend wax and use lead free wicks.
"Mostly Memories Candles, with their soy-blend waxes, lead-free wicks and the varieties of aromas are 'Gifts that make scents'," says a Mostly Memories Representative.
The Made In America Store is the only brick and mortar store that sells 100% made in the United States products from over 350 vendors. Consumers can visit http://www.MadeInAmericaStore.com or call 716-652-4872 to get more information or shop our catalog of over 3,500 items. Both Active Duty Military Personnel and U.S. Military Veterans receive a 10% discount every day. Followers of the "Made In America" movement can keep updated with the Made In America Store through Facebook, Twitter, Google+, Pinterest, FourSquare and even their own blog on Wordpress!