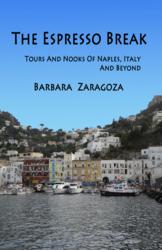 Naples, in truth, is a tale of two cities. One, the narrow streets with seemingly no logic, full of bustling traffic. The other, more than 3,000 years old that curves, collapses, and hollows underground.
Chula Vista, CA (PRWEB) October 12, 2012
The Smithsonian.com recently published an article about the unsolved mystery of the Baiae tunnels, citing Naples (Napoli) Travel Information Guide as a source on how visitors can tour the underground themselves. The Smithsonian's article "Past Imperfect" describes the work of Robert Paget and Keith Jones who both for over a decade cleared and then explored the highly ambitious ancient tunnel system that may have been where the Cumaean sibyl uttered her oracles.
Today, many of those tunnels are open and for those who are not archeologists, but would still like to explore this underground world, Barbara Zaragoza's travel guide The Espresso Break: Tours and Nooks of Naples, Italy and Beyond is the absolute best guide to consult.
She explains, "Sixty percent of Neapolitan inhabitants live on top of more than seven hundred cavities. These subterranean passageways include old Roman markets, theaters, grottoes, crypts, and former bomb shelters. Most of these undergrounds remain closed or barely discovered; many are even privately owned." Zaragoza's travel guide, the first of its kind, gives spelunker enthusiasts the opportunity to explore a vast number of these cavities safely and independently.
The author herself spent three years exploring each of the sights and put together self-guided tours, including a Campania region grotto tour, a Phlegraean Fields tour, an ancient Roman tour and an underground tour specific to the city of Naples. The book even directs travelers to a wine shop where the owner will hospitably take people down into his private underground that once was part of an ancient Roman road.
The travel guide doesn't stop at a tour of the undergrounds. After a delve into darkness, other tours include a historical tour of Neapolitan caffè and an odious women tour. Zaragoza also has thirty insider sights that include off-the-beaten track undergrounds, such as the Mithras sanctuary in Capua.
Jim McDonough at Amateur Traveler said about the book, "This is an amazing piece of work. It wears the label of a travel book, but it is so much more – there is Italian history, Roman history, Greek history, archeology, art history, Italian culture, WWII history, several very interesting looking recipes, restaurant recommendations, hotel recommendations, and a fairly cogent explanation of current Italian politics. And, oh, yes, an incredible amount of information about Naples and surrounding areas."
About The Author:
Barbara Zaragoza spent three years blogging about Naples, Italy and additionally writing about destinations throughout Europe. She has a Master's degree in European history from Harvard University and enjoys exploring local histories, myth, and travel to lesser known destinations. For more about the author, the book, and travel to Naples, see her website: Naples (Napoli) Travel Information Guide.