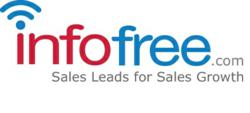 San Mateo, CA (PRWEB) October 10, 2012
infofree.com, the leading provider of unlimited sales leads and mailing lists for the low, flat price of only $49.95 per month, has announced that one of its top searches this week is the New Parents list.
New parents spend an average of $5,000 or more in the first year of their child's life. This creates an amazing opportunity for many different businesses. New parents are in the market for thousands of products and services, from car seats to nursery furnishings, and from pediatric services to the hundreds of products that new babies require.
"Marketing to new parents is an absolute gold mine for businesses of all kinds, as they are in constant need of different products and services for their children. With infofree.com, you can be the early bird and get the (very profitable) worm," says Vin Gupta, infofree.com Founder.
The New Parents database is updated each week, ensuring that customers can access the latest data before their competitors. Customers can search up to 5 weeks prior and specify any geographical area to find the most recent parents in their area.
To try infofree, visit http://www.infofree.com or call 877-448-0101 for more information.
About infofree.com
For $49.95 per month, the service provides unlimited search and download of sales leads and mailing lists, as well as the unlimited view and print of business credit profiles and email lists of 12 million businesses, 200 million consumers and homeowners, and hundreds of other unique databases. Reach new homeowners, new movers, newlyweds, recently divorced consumers, and new businesses with real time downloading and unlimited search.
The infofree.com content is compatible with the following platforms: Oracle CRM, Salesforce CRM, Microsoft CRM, Nutshell CRM, Goldmine CRM, Sage ACT! CRM, Highrise CRM, Zoho CRM, NetSuite CRM, SAP CRM, Constant Contact, RightNow Technologies, Responsys, Vertical Response, and Dun & Bradstreet.