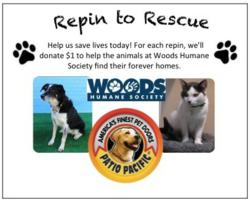 San Luis Obispo, CA (PRWEB) October 16, 2012
Patio Pacific, the parent company to online retailer PetDoors.com, announces their first ever-charitable promotion on Pinterest.
The California-based retailer of dog doors and cat doors will partner with Woods Humane Society to raise awareness and funds for a cause that is close to their hearts – animal adoption. The program will start on October 3rd (in accordance with Adopt a Shelter Dog Month) and run through the end of November. Both organizations have a shared goal of making sure the animals of San Luis Obispo are well protected and well cared for and eventually find their way to a loving permanent home.
Over the next month and a half Patio Pacific will ask their loyal fan base on Facebook, Pinterest and Twitter to repin specific images with the hastag #rescuerepin. For every repin they receive, Patio Pacific, will donate $1 to Woods Humane Society. Please click here for complete rules and regulations.
About Patio Pacific
Patio Pacific – Parent company to PetDoors.com and America's Finest Pet Doors manufactures and distributes dog doors and cat doors online. Over the last three decades, Patio Pacific and America's Finest Pet Doors has risen from a niche prototype & market to become one of the nation's premier retailers & trusted manufacturer of doors for dogs and cats.
Woods Humane Society
Woods Humane Society was founded in July 1955 as Woods Animal Shelter. It has been continuously operating by serving the local San Luis Obispo community and the animals in need. In 1975, Woods Humane Society moved away from being an animal control facility and started to focus exclusively on being an adoption shelter for dogs and cats. Woods Humane Society is a nonprofit organization and is supported by donations, grants, fundraising events and fees from certain services they provide. Since being set up as a shelter, Woods Humane Society, can proudly say they have a 90% adoption rate.