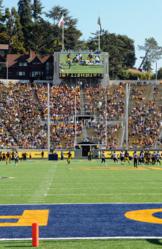 Cal Berkeley is an icon of NCAA sports, as well as one of the country's great universities. It's an honor being a part of the project.
Irvine, CA (PRWEB) October 11, 2012
Lighthouse and TS Sports have installed Lighthouse HD10 LED video screens and three sets of LED video fascia at California Memorial Stadium, longtime home of Cal Berkeley Golden Bears football.
Entering the stadium, the main Lighthouse LED video displays, press box fascia and field level displays fit perfectly into the well-executed renovation of California Memorial Stadium, which has modernized the stadium while managing to retain the look and feel of a traditional college football stadium. The Alumni band plays alongside Cal Berkeley's famous university band, painted students decorate the raucous student section, and the stadium is swathed in game day blue and gold.
The project, integrated by Lighthouse partner TS Sports, features main LED video displays on the north and south ends of the stadium. Both ends of the stadium receive Lighthouse's revolutionary Greenline series HD10. The HD10 is environmentally friendly – RoHS compliant – and has a dramatically reduced carbon footprint over conventional panels. In addition, the Greenline HD10 delivers spectacular brightness with an ultra-high contrast ratio, producing excellent image resolution and uniformity, plus crowd-pleasing viewing angles. The main video displays each measure 22′ high by 40′ wide, boast a visual resolution of 10mm (courtesy of an effective total of over 800,000 pixels per screen), and are built from 66.5 LED video panels each. Golden Bears fans enjoy colorful animations, sponsor messages, instant replays and player introductions, along with custom video and highlights.
"Lighthouse is excited to contribute to the California Memorial Stadium renovation," says Ed Whitaker, Lighthouse Jumbovision N.A.S.A. Director of Sales. "Cal Berkeley is an icon of NCAA sports, as well as one of the country's great universities. It's an honor being a part of the project."
The Lighthouse portion of California Memorial Stadium's renovation also includes an LED video fascia display across the press box, plus two more at field level. Built from Lighthouse 20mm LED video panels, the fascia displays combine for 466′ linear feet of LED video, with the press box fascia extending the entire length of Cal's football field. With nearly 440,000 individual LED pixels, the fascia displays deliver coordinated, crystal-clear images, video and animation. Combined with California Memorial Stadium's other improvements, Cal's renovation is more than a facelift. It's a revolution for the fan experience.
"The Cal Berkeley renovation is the sort of project that doesn't come around often," Ed Whitaker adds. "We hope Bears fans are thrilled with their new, familiar home."
~END~
Lighthouse is a leader in LED video display technology that develops, manufactures, and markets LED video solutions for multiple indoor & outdoor applications, media & entertainment events, and sports arenas across the globe. With numerous technological breakthroughs to its name, Lighthouse has established itself as a multi award-winning leader in the LED video industry that holds itself to the highest standards of quality.
Employing the most advanced technology, the highest manufacturing facilities, and world-class, round-the-clock technical support, Lighthouse satisfies customers and captivates the imaginations of millions. For more information about Lighthouse, please visit http://www.lighthouse-nasa.com/.