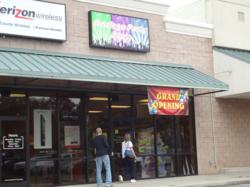 Morganton, NC (PRWEB) October 16, 2012
Bazinga Party Store is a fun new shop located at 1553 E. Union St., Morganton, NC 28665. The new independently owned party store was opened by local entrepreneur Deana Jones with the help of Discount Party Store Developers. With a wide selection of unique affordable merchandise, Bazinga Party Store is expected to bring even more business to the local area as well as offer an affordable option for the community for purchasing party supplies.
Bazinga Party Store sells all of the party essentials like napkins, balloons and balloon bouquets, cups, plates, greeting cards, seasonal party items for Halloween, Christmas, New Year and other holidays, various themed items, and a range of unique novelty party items. Bazinga Party Store now offers the local area all of these party essentials under one roof, eliminating the need to visit several locations for the needed supplies according to store owners.
Discount Party Developers assisted Deana Jones in securing financing, site location, lease negotiation, business training, store build-out, securing a network of wholesale suppliers, and is committed to providing ongoing business and marketing support.
Discount Retail Store Services is a business development company helping entrepreneurs start a business by covering all of the core tasks including site location, lease negotiation, financing, build-out, business training, new store oversight, and ongoing wholesale support and marketing support. Opening nearly 3000 independently owned stores to-date, they specialize in six business models including dollar stores, clothing stores, teen stores, party stores, mail box stores, and fitness centers. Find out about upcoming news on Facebook.