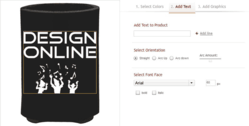 This is visitor's one stop shop for customized can coolers. Got Koozies specializes in printing can coolers, coozies, beer hugger or any cover or wrapper used to keep a drink cold for long duration.
(PRWEB) October 14, 2012
SEO Service Group's new client understands that promotional products, like koozies, help businesses improve brand awareness while also giving customers a functional product that improves their lives. Products offered by the company can be customized to include client logos or personalized designs.
"The site is a one stop shop for customized koozies. Got Koozies specializes in printing can coolers, koozies, beer huggers or any cover or wrapper used to keep a drink cold. A can cooler can keep any drink ice cold and refreshing, while at the same time help promote a company's brand. People who are looking for customized Koozies without having to purchase a large minimum quantity have found the right place," stated a gotkoozies.com representative. Part of what makes their system so successful is that clients can purchase personalized koozies quickly and easily. With a few clicks of a button, businesses can design and customize koozies for their promotional needs.
The promotional benefits that koozies provide has proven to be a driving force behind the company's growth. When they are given away at corporate events, the company's customer base is improved as the koozie provides a constant reminder of the company. Every time a company's koozie is used, the logo or message printed on it will be seen by friends and family. This is the type of advertising that has a chance to continually keep customers coming back.
When asked why the company has grown so quickly, a company representative stated, "The Koozie helps people grasp bottle handles perfectly without making their hand too cold or burning them when it's hot. Because they are inexpensive, koozies have become a popular choice for parties and everyday use. Many use can coolers that have quotes or jokes printed. This could be a highly sought after gift for the younger crowd." The ability to be able to create a personalized koozie is what makes the demand for this product so high.
For more information about the company or to order customized koozies, please visit http://www.gotkoozies.com.
About Got Koozies
Got Koozies opened up its website, http://www.gotkoozies.com, with the intention of expanding their list of clients. The company has since grown into a market leader that allows customers to personalize their koozies directly from their website. With low quantity requirements needed, virtually anyone can create their own koozie.