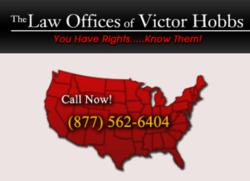 Irvine, California (PRWEB) October 12, 2012
The Law Offices of Victor Hobbs today announced they are offering residents of California and others across the country, who continue to struggle with mortgage loan modification plans, their no-fee services to help them complete their loan modification forms.
Mortgage modification allows homeowners to modify the terms of their mortgage by changing the original terms of the contract they signed. This process must be agreed to by both the lender and the homeowner, with terms clearly stated. Unfortunately, lenders are making this process as difficult as possible. Homeowners who are late in payments, currently in default, in foreclosure, or bankruptcy, need to understand they still have many options available, that they can explore. People who are facing problems with obstructive lenders are now being helped by the Law Offices of Victor Hobbs with the preparation of their forms, and giving free advice on other avenues they can pursue if they do not qualify for a home loan modification program.
Victor E. Hobbs has been a strong advocate for people for over 30 years, and with the announcement of no-fee services for loan modification documents, he continues his tradition of helping those in difficult situations. He has seen lenders say they want to help people remain in their homes, yet knows full well that when homeowners approach their lender, they often run into brick walls, put up by these lenders to discourage them from getting their loan modified.
Victor Hobbs believes that with his no-fee help, homeowners in California and across the country, will be able to get the loan modification they are seeking. The Offices of Victor Hobbs helps homeowners to correctly calculate their ratio of income and expenses, in order to see if they qualify for a loan modification program. After calculating the different factors involved in loan modification, and if they qualify, then the Law Offices of Victor Hobbs will help in submitting documents to the lender, and ensure you're being dealt with fairly.
The Law Office of Victor Hobbs will advise clients, who are not suitable candidates for loan modification, on other options that are available to them. Homeowners who were subjected to predatory mortgage lending practices have a number of options available to help them. It may be possible to enter into litigation with a lender who is refusing to give a consumer a loan modification, even when they qualify for such modification.
Victor Hobbs is known for helping homeowners use all options possible, in order to get the results they desire. With over 30 years of practice, he's seen it all, and offers homeowners the best chance to get the help they desperately need.
About
The Law Offices of Victor Hobbs offer consumers highly skilled and experienced attorneys, that can represent consumers and plaintiffs nationwide, in a number of different types of litigation. Our attorneys are experienced in helping those who are being victimized by abusive, fraudulent, predatory lending, and business practices. Our attorneys have successfully prosecuted large corporations, insurance companies, and manufacturers. With a strong focus on protecting consumers, lawyers in the firm aggressively pursue those who are treating consumers unfairly. For more information on the Law Offices of Victor Hobbs go to http://hobbslegalsolutions.com/
Law Offices of Victor E. Hobbs
17981 Sky Park Circle Suite C
Irvine, CA 92614
(949) 274-9206