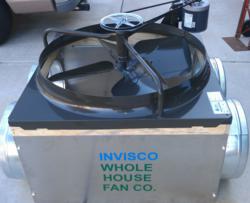 Invisco fans really move air!
(PRWEB) October 12, 2012
Invisco Whole House Fan Company has engineered a complete line of whole house fans with performances ranging from 1600 CFM up to 15,000 CFM and all capable of infinitely variable speed control using the Vari-Speed (tm) continuously variable speed control made by KB Electronics.
The product line includes direct drive and belt driven fan blades. Direct drive fans are from 12 inches to 20 inches in diameter. Belt driven fans are 24, 30, 36, 42 and 48 inches in diameter.
Some fans are available in 6 blade versions. As an example, the 36 inch belt drive whole house fan uses a fan blade with 6 blades for maximum air flow.
All of the larger Invisco Whole House Fans are built to be taken apart so they are easily lifted into most attic entrances. This allows the fan to be mounted hanging from the rafters and connected to rooms through ducts.
Even the very large 48 inch machine can be dismantled into pieces that fit through an opening that is as small as 18 by 18 inches.
The result is a whole house fan system that is almost impossible to hear from below. Sound level measurements show that the sound is only a few sones even at high speed when measured in the room under the rafter mounted system.
For more information call Kurt Shafer at 800 579 5018 or visit invisco.com