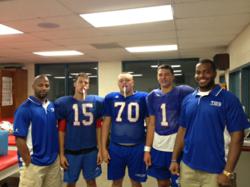 "I thinks it's a great mouth guard, it fits really well, and the results are good."
--Christian Hackenberg
(PRWEB) October 11, 2012
Dr. Wright recently launched a sports concussion and safety awareness campaign. As the campaign continues Dr. Wright has been going to local youth football games and setting up a table to help parents, athletes, and coaches understand the importance of using a properly fitted mouth guard. Along with raising awareness to the youth he is also going to local schools to speak with Athletic Directors about mouth guard awareness. Most recently, he went to Fork Union Military Academy where he and a few others spoke to the football players about: perseverance, second chances, and the importance of protection during their football practices and games. Dr. Wright talked to the Fork Union football team and educated them on the importance of wearing a properly fitted mouth guard. Using the mouth guard can reduce the possibility of a concussion and help protect against significant oral/facial injury. After educating the athletes Dr. Wright and his team fitted each individual player so that their TWG X mouth guard fit properly. While wearing the TWG X mouth guard, Christian Hackenberg, the quarterback for Fork Union and a Penn State recruit, increased his 40 time by: .12 seconds.
Dr. Wright and the TWG team also visited Virginia Tech University to help raise mouth guard awareness. Dr. Wright spoke with the Sports Medicine team about The Wrightguard and how important it is to wear a mouth guard. The TWG team is educating on all levels because we know that everyone needs the best protection possible no matter how old.
Dr. Wright and the TWG team continue to help raise awareness through his campaign to all athletes: youth, high school, college, and professional. Their goal is to educate as many athletes as possible. The TWG team's goal is to help keep athletes safe and help them stay on the field as long as possible.