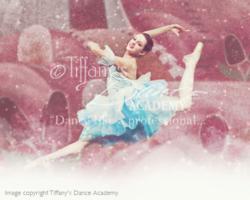 "I am beyond proud of Allie Gomes for this amazing accomplishment. Her hours of hard work, focus and dedication to all forms of dance has made this dream a reality." Tiffany Henderson
San Francisco, CA (PRWEB) October 11, 2012
Tiffany's Dance Academy is pleased to announce that current student, Allie Gomes will be attending the prestigious University of Arizona School of Dance. Allie has received and accepted a scholarship offer to attend the U of A and will be following in the footsteps of Tiffany's Dance Academy owner and U of A school of Dance graduate, Tiffany Henderson. Henderson affirms, "I am beyond proud of Allie Gomes for this amazing accomplishment. Her hours of hard work, focus and dedication to all forms of dance has made this dream a reality."
The University of Arizona School of Dance is known as one of the top dance departments in the nation and was recently noted as one of the top 20 dance programs according to The Performing Arts Major's College Guide. The school has an enrollment of 125 BFA students selected from an audition process of over 750 applicants, as stated by Jory Hancock; Dean, College of Fine Arts, Director, School of Dance. This past Saturday's audition, 101 auditioned and 2 girls and 4 men were accepted, of the two California auditioners, TDA's Allie Gomes was selected. Steffon Long, Tiffany's Ballet Director claims, "Allie Gomes is the kind of dancer who always makes difficult choreography look easy; she's exactly the kind of dancer that all choreographers and directors of ballet programs and ballet companies are searching for: her's is a rare and beautiful talent, and it's a joy and a privilege to have her as a student at TDA."
According to current TDA instructor, choreographer, and U of A alum, LoRee Kenagy , "Allie will certainly flourish in the U of A program. She's got the perfect work ethic to thrive there. I can't wait to see the dancer she becomes. Her acceptance is a testament to the possibilities, when a student dedicates themselves wholly to the TDA program." Tiffany's Dance Academy offers professional, training for dancers ages two through adult in Classical Ballet, Tap, Jazz, and Hip Hop.
Tiffany's Dance Academy has been featured in: Dance Informa, Dance Studio Life Magazine, Dance Teacher Magazine, The Contra Costra Times, The San Francisco Chronicle and they have participated in the 2006 Disney's ABC TV Christmas Special with Ryan Seacrest. They have also been awarded the Bay Area Parent Magazine "Family Favorite" award for the last three consecutive years. To learn more about Tiffany's Dance Academy visit their website at http://www.tiffanydance.com. Please contact info(at)TiffanyDance(dot)com for more information regarding class schedule and pricing.
Background: Tiffany's Dance Academy is a dance studio founded in 2001. TDA emphasizes excellent training in Classical Ballet, Tap, Jazz, Lyrical and Hip-Hop. Tiffany Henderson, owner/director graduated from the University of Arizona, Magna cum Laude, with a Bachelor of Fine Arts in Dance in 1998. She has performed professionally with the Arizona Jazz Dance Ensemble at the Kennedy Center, in Washington D.C. She has also performed as far away as Amsterdam, and Japan. She currently performs bi-annually with Bay Area Dance Company.