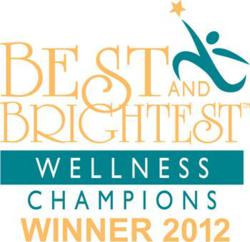 Sterling Heights, MI (PRWEB) October 12, 2012
Experi-Metal Inc. (EMI) has been selected as a 2012 Best and Brightest Wellness Champion! This honor is due to their strong commitment and continued dedication to wellness in the workplace.
Experi-Metal Inc. offers many opportunities for their employees and families to lead a healthier lifestyle. Recently they installed a second employee weight room which contains multiple pieces of exercise equipment for a well-rounded workout experience including a treadmill, elliptical, bicycle, free weights, weight bench and a "Body Solid" multiple station gym with an abdominals board to encourage employees to stay fit.
During 2012 they also introduced the Weight Watchers at Work Program for employees and their spouses. After only 12 weeks, 12 participants lost over 235 pounds. This was a great success! Experi-Metal, Inc. reimbursed employees for 50% of their cost of the program if they successfully completed the 12-week plan.
EMI offers employees "Wellness Credits" which reduce out of pocket insurance premiums for participation in their Wellness Program. The Wellness Program consists of employees committing to living a healthy lifestyle by refraining from any type of tobacco, obtaining an annual flu shot and biometrics screening (offered at no cost to employee's on-sit once per year) and attending quarterly Lunch and Learn sessions. The significant savings on health insurance premiums coupled with leading a healthier lifestyle has proven to be a great success.
President and CEO Valiena Allison said, "It is an honor to accept this 2012 Best and Brightest Wellness Champion award for the commitment on behalf of EMI employees to healthy living! Our employees are the best asset that we have and we would like to encourage each and every employee to pursue a long, healthy and balanced lifestyle. Experi-Metal Inc. rewards our employees who participate in our Wellness Program with lower insurance premiums and opportunities for healthy learning. In turn, employees share this new found knowledge with family and friends, who benefit as well. By committing to healthy living, absenteeism due to illness decreased and the overall health, happiness and productivity of each employee increases. It's a win-win situation for both employee and employer."
Experi-Metal Inc. is in good company along with the other winning organizations such as Brown & Brown of Detroit, McGraw Wentworth and New Haven High School, to name just a few. The winning companies were honored at a breakfast celebration and symposium on September 25, 2012 at the MSU Management Education Center in Troy.
Michigan's Best and Brightest Wellness Champions event is presented by Michigan Business and Professional Association, Wellco, CORP! Magazine and the Michigan Food and Beverage Association. The event is being sponsored by McGraw Wentworth and St. John Providence Health System.
About Experi-Metal Inc. (EMI)
EMI is a growing company that supports approximately 150 families in the metro-Detroit area and demonstrates a strong dedication to Michigan's revival. Experi-Metal Inc. is a world-class supplier and manufacturer of prototype tooling and low-volume metal stampings, trim moldings, specialty items and assemblies for the automotive, aerospace, and military and homeland security market segments internationally. EMI manufactures quality "Made in the USA" aftermarket components, steel body replacement parts, sub-assemblies and full body-in-whites in steel, aluminum and stainless steel.
###